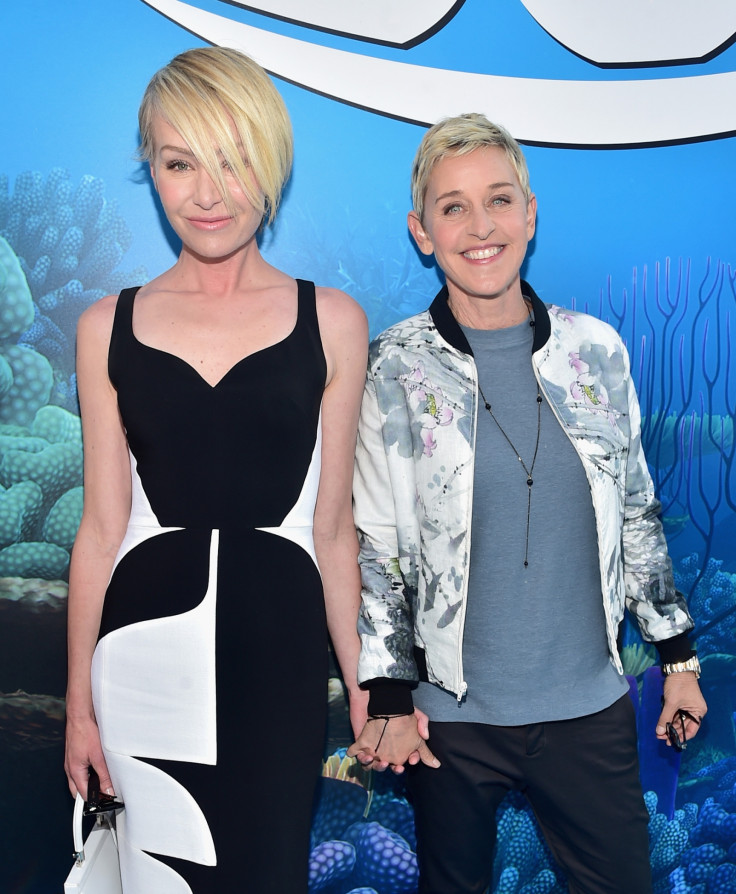 Ellen DeGeneres never misses a moment to express her love for wife Portia De Rossi with whom she has been married for nine years. In an adorable Thanksgiving post on Instagram, the comedian revealed that the most important person she is thankful is her wife Portia.
The 58-year-old talk show host shared a picture of her 43-year-old wife and her two pet dogs on a couch. "Happy Thanksgiving! Here's a photo of some of the things I'm most thankful for," she captioned the photo posted on the image sharing website.
The couple, who guard their privacy closely, have appeared together at the White House for the presidential award for Medal of Freedom. DeGeneres was nominated for the prestigious award for her role in encouraging the LGBT community and inspiring millions to lead a life full of positivity.
"It's easy to forget now, when we've come so far, where now marriage is equal under the law—just how much courage was required for Ellen to come out on the most public of stages almost 20 years ago. Just how important it was not just to the LGBT community," President Obama said in his speech honouring Ellen. "What an incredible burden that was to bear. To risk your career like that. People don't do that very often," he added.
DeGeneres and Portia got married in 2008 at their home in Beverly Hills, California and have weathered multiple rumours claiming trouble in paradise for the couple. On 18 November, InTouch Weekly reported that the couple was heading for divorce. "They've had heated debates about Ellen's controlling behavior," a source told the magazine. "[They] always seem to be on the verge of a breakup over one crisis or another. But now a divorce is imminent," the source added.
However, the standup comedian's latest Instagram post is definitely a debunker to false gossips suggesting trouble in the couple's loving paradise.