Elton John has invited the public to celebrate his forthcoming wedding to David Furnish.
The Sacrifice singer just joined Instagram to post an invitation to fans around the world to share his celebration online.
Adorned in red roses, the invite reads: "Sir Elton John and David Furnish request the pleasure of your company to celebrate their wedding on Sunday the 21st of December."
The caption read: "Please join us this Sunday @DavidFurnish and I will be posting special moments from our big day. #ShareTheLove #EltonJohn #DavidFurnish"
The couple have been together for 21 years. They entered into a civil partnership on December 21, 2005. The wedding takes place on their nine-year anniversary.
While the singer is known for his extravagant and flamboyant style, the wedding will reportedly be low-key affair with 50 of their close friends and family attending. The big day believed to be taking place at their Windsor estate.
David and Victoria Beckham, Elizabeth Hurley and Ozzy and Sharon Osbourne are expected to be included in the celebrity guest list.
A friend of the couple told Las Vegas Review Journal: "Elton and David have been planning this for months. Elton is flamboyant but, for once, this will be decidedly low-key affair. Only close friends and family are invited - it's going to be a small, intimate do."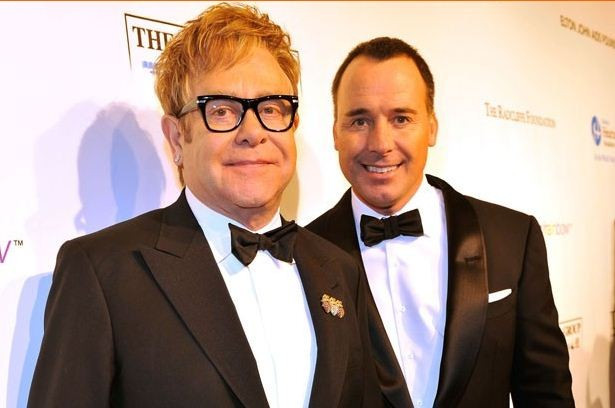 Speaking in May, Furnish said that he feels their marriage is important since it can set a positive example for other gay couples in the UK.
"We don't feel the need to take an extra step legally," Furnish told the Las Vegas Review Journal. "But since we're committed for life, we feel it's really important to take that step, and take advantage of that amazing change in legislation. We all live by example," he added.
The pairs two sons, Zachary, three, and Elijah, 23 months, are expected to be ring-bearers during the ceremony.
The source added: "It's important to David and Elton the boys play a special part."
In 2005, Elton, 67, and David, 52, were among Britain's first same-sex couples to tie the knot when civil partnerships were granted.
The couple initially exchanged vows at the Windsor Guildhall, the same venue where the Prince of Wales and Camilla Parker Bowles married in April 2005.
Shortly after laws were changed to allow same-sex marriages in Britain, and the veteran singer announced plans to wed his Canadian partner.
A rep for the singer confirmed the news of their nuptials to People magazine.