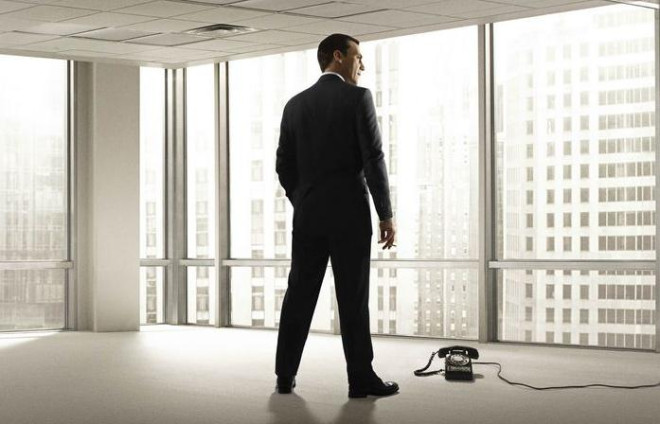 "Are you ready?" says Freddy Rumsen, looking directly into the camera. "I want you to pay attention. This is the beginning of something."
It certainly is - it's the beginning of the end for Mad Men. For these characters we've spent so long with however, it's the beginning of a lot of things as their arcs are slowly, methodically brought to a conclusion.
For all of its illusions of fantasy, Mad Men is a remarkably grounded show. Don Draper's (Jon Hamm) journey to redemption has been slow and riddled with missteps, but as we enter the final 14 episodes (seven this spring, seven next) we can sense that he's heading in the right direction.
Wife Megan (Jessica Paré) is living on the west coast eagerly pursuing an acting career while Don on the east coast works vicariously through returning face Freddy (Joel Murray). Their long-distance, "bi-costal" marriage is doomed.
Don is attempting to sober up, so befriending former alcoholic Freddy Rumsen (whose reputation was ruined when he wet himself in a drunken stupor) makes sense. Don getting his (brilliant) work into the company though him, despite still being paid while suspended, also makes sense as he has always found a certain therapy in the fantasy world of advertising ideas.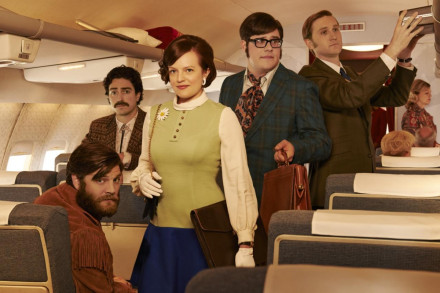 Freddy pitches Don's ad for Accutron watches to Mad Men's heroine Peggy Olsen (Elizabeth Moss), who we last saw sat in Don Draper's chair, seemingly at the pinnacle of her career. As we start season 7 however we find her as we have for most of the six past seasons - frustrated, with Sterling Cooper & Partners bringing in a replacement for Don who provides just another obstacle for Peggy.
Peggy and Don always clashed in the pursuit of bettering themselves and each other. Peggy and Lou Avery (Allan Harvey) on the other hand just don't get on, and Lou's old fashioned ideas are at odds with the company SC&P has become. Peggy deserves to be in the role – even if just in Don's brief stead – but this serves as a reminder to her and us that 1969 is still a man's world.
She knows this too, and combined with her non-existent personal life and reminders of a failed affair with Ted Chaough (Kevin Rahm) she ends the episode breaking down in her run-down apartment. Peggy deserves better, but she's going to have to fight for it.
Mad Men's other key woman, Joan Harris (Christina Hendricks), is a Junior Partner at the company but not at all respected due to how she got the role (sleeping with a client to secure an account). She's wanted to legitimately venture into the accounts side of things for some time, and after being talked down to by a stressed-out Ken Cosgrove (Aaron Staton) she meets with a client.
Said client wishes to cut their ties to SC&P, but after some business tutoring from a professor manages to save the account. Ken finds out however and Joan finds herself where she began the episode, only with a little more confidence than before.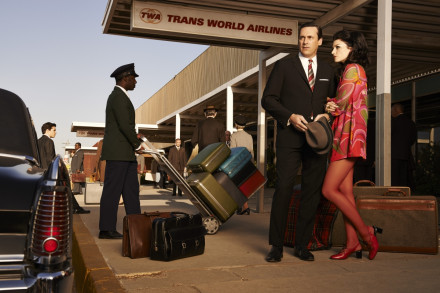 The episode also touched upon Roger Sterling (John Slattery), who after his most recent marriage ended has decided to dive (half-reluctantly) into the late-60s world of free-love with women half his age.
After a post-orgy phone call, Roger meets with his estranged daughter for brunch. She's decided that she forgives him for all his misdemeanours, but Roger doesn't seem understand that the pair of them have found their own spirituality in different ways – Roger with sex and drugs, his daughter through other, possibly religious, means.
Then there's Pete, who Don meets after arriving in California. He's tanned, he's happy and he's wearing the most ridiculousoutfit, indulging himself in the "vibrations" of Los Angeles. His wrecked marriage in New York sent him to the east coast with regret, but also a desire to start afresh. So far it's going well, or at least seems to be.
On the return flight Don befriends a character played by Neve Campbell. Don hits it off with random women all the time, but this was different. Don opens up to her and admits that he's been a terrible husband, he then turns down the offer of sex.
In the final scene Don sits a wreck on his balcony after putting down the alcohol which caused his downfall last season. The stark contrast between this dreary scene and the vibrancy of his introduction – set to the Spencer Davies Group's I'm a Man – is intentional, and possibly a sign that his salvation lays far away from Madison Avenue.