Emily Ratajkowski poses topless in a sexy poolside photo on Instagram: 'Explosive'
The Gone Girl actress also stripped topless for another mirror selfie on Instagram live.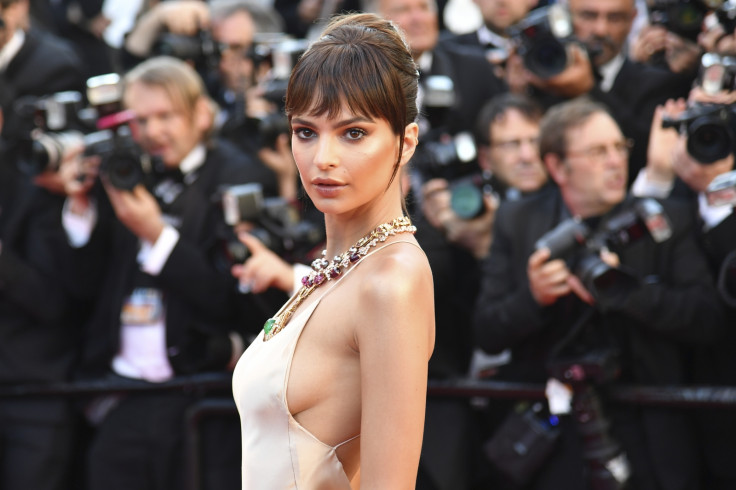 Emily Ratajkowski, the 26-year-old model, posted a photo of herself on Instagram wherein she ditched her bikini top as she soaked up the sun.
In the image, Ratajkowski is seen lying beside a pool in just her black bikini bottoms with a couple of cocktails next to her. She hides her modesty with her hand, as she covered her head with a cap to keep cool.
She captioned the post saying, "Summer 2017." The Gone Girl actress also stripped topless for another mirror selfie on Instagram live, the same day. She is seen wearing jeans and covered her breasts with her hands in the photo.
One of her fans has called it "'Explosive". Another commented, "Mammasita, I like watching you enjoy)) You always look gorgeous and astonishing girl)".
A comment reads, "Beautiful sweetheart," while a follower of her noted, "You have a problem ......people go crazy with You." A fan of hers called her an "angel" and wrote, "Damn ur an angel."
"Madly in love with you," commented an admirer, while another asked, "Um where's your bikini top??"
The actress recently appeared on The Jimmy Kimmel Live show and opened up about her diet. She told the host, "I'm not someone who cooks. I'm someone who eats — a lot."
She continued, "You should see my refrigerator. It's insane. I have a relationship with Postmates. It's basically Indian food and Thai food, preferably when I'm horizontal in bed. I've had people come over and watch me eat and then say, like, 'I've lost all respect for you.'"
Previously, she also opened up about baring her body in an interview with Allure magazine. "It really bothers me that people are so offended by breasts," the Instagram model told the magazine.
"That's when I realised how f***ed our culture is. When we see breasts, we don't think of beauty and femininity. We think of vulgar, oversexualised images," Ratajkowski added.
© Copyright IBTimes 2023. All rights reserved.