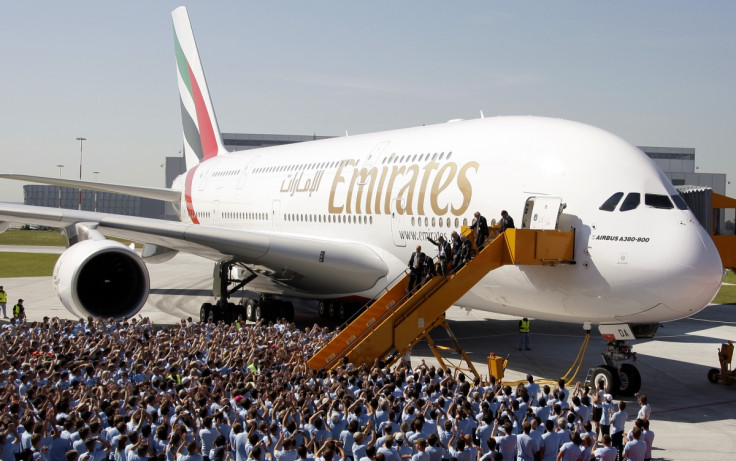 Dubai-based Emirates has removed its entire first class and reduced the number of business class flatbed seats in an effort to accommodate the largest number of passengers ever in an aircraft. Its new first two-class Airbus A380 launched this week at the Dubai Airshow has a total of 615 passenger seats. Of these, 58 are business class and the remaining 557 economy.
This is a gain of 130 economy seats when compared to its sister three-class planes. The addition has come in the shape of 13 rows of 10 and has been designed such that customers will not have to sacrifice their legroom. The new plane includes a business class lounge.
Emirates's existing A380s accommodate far fewer passengers. While both come with three classes, one accommodates 489 passengers and the other 517.
The airline said every seat on the plane will feature a 13.3 inch screen, one of the widest in the industry, with in-flight entertainment options spanning a huge choice of 2,000 channels of films, television shows, music and games.
The plane will begin commercial operations on 1 December. Its first route will be a seven-hour flight between Dubai and Copenhagen.
The aircraft is Emirates's 68th A380 in its fleet with 72 more on order. It was flown directly from Airbus's German headquarters in Hamburg to the Dubai Airshow to enable the guests at the event to have a look and feel of the plane.
Emirates Group's chief executive and chairman, Sheikh Ahmed bin Saeed Al Maktoum, said: "The Dubai Airshow has grown to become a key event in the aviation and aerospace calendar and it is fitting that the aircraft on display this year embody the growth of Emirates as a global airline and as an enabler focusing on meeting the future demand for highly skilled professional airline pilots."
Compared to Emirates, British Airways has taken its Airbus A380s in the opposite direction, as they are configuring their aircraft with four classes.