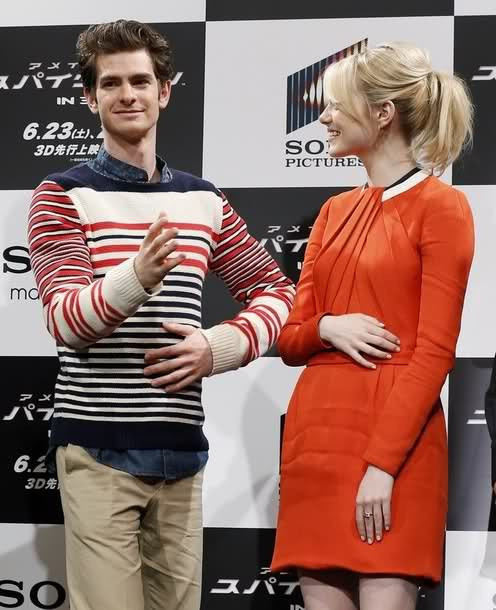 It is rare for this celebrity couple to show affection in public - they have always been tight-lipped about their off-screen romance. However, the Amazing Spider Man star Andrew Garfield could not keep his hands off girlfriend and co-star Emma Stone, as they posed for the red carpet premiere of their film in Madrid.
The 28 year old held the Easy A actress close to him while posing for the shutterbugs and signing autographs. Stone, meanwhile, looked charming and elegant in a prim cream outfit from Dolce & Gabbana's Fall 2012 collection. The lace dress had puffy sleeves with simple and colourful floral embroidery. She teamed that with jewellery from Van Cleef & Arpels and nude Christian Louboutin pumps. The actress completed her look with a wavy hairdo neatly pinned with white hair grips. The smitten Garfield wore a Band of Outsiders beige suit, combined with a blue shirt.
In an interview with Teen Vogue, The Social Network star talked about how the couple met and fell for each other. It was, in fact, during the audition for the film.
"It was like I woke up when she came in. She was the last person to screen-test, and I was so bored of it by then that I was mucking about - I'd been pretending I was Tom Hanks or Seth Rogen," he said, "And then she came in, and it was like diving into white-water rapids and having no desire to hang on to the side."
"Throughout shooting, it was wild and exciting. I couldn't help but try to stay with her, keep pace with her, and not let her get away,. Like an animal preying on a smaller animal, but a wily smaller animal," he added.
The couple has been busy promoting their film through Europe, with stops in London, Paris, Berlin and now in Spain. Stone plays the role of Gwen Stacy, Spider Man's love interest, in the film.
The Amazing Spider-Man will be out on 3 July.