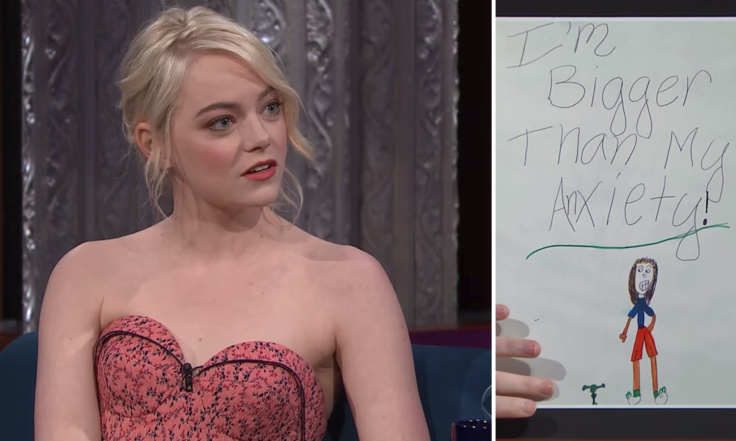 La La Land star Emma Stone has opened up about her lengthy battle with anxiety, revealing on The Late Show with Stephen Colbert that she's been going to therapy since she was seven.
"I was a very, very, very anxious child and I had a lot of panic attacks," she said. "I benefited in a big way from therapy, I started it at 7."
The Oscar-winner brought along a drawing of hers she made while in therapy at the age of nine. It shows her, an object meant to be her anxiety and in big words above it: "I'm bigger than my anxiety!"
"This is me, I guess, and this is anxiety here, a little green monster that looks a little bit like, as someone backstage said, a uterus with some ovaries," Stone explained. "I didn't mean it to be hormonally related in any way, as I said, I was 9."
Stone was on the show to promote her new movie Battle of the Sexes, about the famous tennis match in 1973 played between Bobby Riggs, played by Steve Carrell, and Billie Jean King, played by Stone.
Discussing her anxiety with host Colbert, who also spoke of his own experience with the affliction, the pair found common ground in how performing helped them fight it. Stone discussed it with King as well, while she prepared for the new role.
"Billie Jean was telling me the same thing. We were going through so much in her life – which is what the movie is about – so much angst, and she would walk out on that tennis court and it was gone."
Stone isn't the first celeb to open up about their mental health. In 2011, Adele opened up about the effect anxiety has had on her ability to perform live, telling Q Magazine: "'I'd hate to book a festival and have a f***ing anxiety attack and then not go on stage, do you know what I mean?'
''I'd rather do 12 years at the Barfly than one night at the O2.''
That changed however as her career took off, leading to shows at the O2, Wembley Stadium and a headline slot at Glastonbury Festival in 2016. She still suffers from anxiety however.
Earlier this year, as her most recent tour came to an end, she told a live audience (via the New Zealand Herald): "Touring isn't something I'm good at. Applause makes me feel a bit vulnerable. I don't know if I will ever tour again. The only reason I've toured is you. I'm not sure if touring is my bag."
Former One Direction star Zayn Malik revealed last year, after cancelling a gig due to anxiety, that he had reached out to Adele for support.
"Unfortunately my anxiety that has haunted me throughout the last few months around live performances has gotten the better of me. With the magnitude of the event I have suffered the worst anxiety of my career."
Millions in the UK and around the world suffer from anxiety, with the UK reporting 8.2 million cases in 2013. Women are more likely to diagnosed with anxiety disorders than men, according to statistics from the UK's Mental Health Foundation.
Battle of the Sexes is released in the US today, with UK viewers having to wait until 24 November to see the film. After that, Stone will next star in The Favourite, a period piece about Queen Anne set for release in 2018.