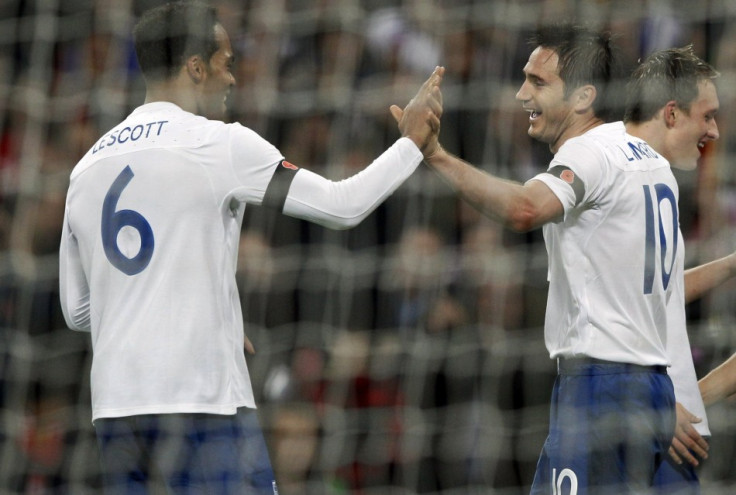 England defied the gloomy pre-match forecasts to surprisingly register their first victory over Spain for ten years, after a close range Frank Lampard header gave the national side a much needed fillip at Wembley on Saturday.
There seemed a genuine sense of excitement about seeing the world and European champions at the home of football prior to the match, even if there was a palpable realism about the undertaking at hand. A combination of an honest reflection of the perennial disappointments of the national side which reached its nadir in South Africa last summer, and a healthy respect for the feats of this remarkable Spanish team, made for a typically underwhelming initial atmosphere.
Containment was the order of the day and Fabio Capello's cleverly visualised instructions were manfully executed, even if the deserved goalless score-line at half-time belied Spain's unwavering control of possession.
England remained obdurately compact and frustrated Spain for large parts of the game, negotiating the 45 minutes with relative ease.
Where England looked ponderous in possession and reluctant in attack, they were belligerent in defence and admirably organised. In fact, rarely in recent times has England's back four looked so assured despite Spain's 348 touches in England's half of the pitch in the first half alone.
Joleon Lescott and Phil Jagielka, a partnership that thrived at Everton prior to the former's contentious move to Manchester City, stood tall as Spain effortlessly retained the ball in menacing positions. That they failed to really test Joe Hart in the first half is a testament to the concentration levels of England's well drilled midfield and defence.
James Milner and Theo Walcott were suitably disciplined when Jordi Alba and Alvaro Arbeloa strode forward, helping Glen Johnson and Ashley Cole negotiate the mounting pressure. That neither was able to impress their offensive skills on Spain's largely redundant back four was a measure of Spain's irrepressible ability to manipulate the ball.
England's rare forays in the final third were typically direct but seemed more in hope than expectation as Darren Bent became increasingly marginalised.
Frank Lampard, Phil Jones, and the superb Scott Parker worked tirelessly to suppress Spain's vaunted duo of Xavi and Andres Iniesta, who were supplemented by the ghostly movement of David Silva. England's commendable efforts successfully stifled their lavishly gifted counterparts, but Spain's technical superiority in the first half was perhaps best encapsulated by the strength of their bench.
Cesc Fabregas has a brought an energetic Britishness to the obvious beauty of Barcelona's football this season, enabling the effervescent playmaker to make a near seamless regeneration at his boyhood club. Juan Mata's move in the opposition direction has been no less impressive, defying the widely held notion that foreign players need a period of adaption, in order to contend with the robust defending and permissive refereeing of Premier League football.
The impish 23-year-old has brought an immediately recognisable Spanish creativity to the occasionally methodical Chelsea, but of course the mercurially gifted duo, alongside Fernando Torres, were all confined to a watching brief in the first half. That none of the aforementioned merited inclusion from the start is a measure of their vast, thus far unrelenting, talent pool of Spanish football.
Despite the brilliance left in reserve, unusually Spain's inexorable ball retention failed to break down England's commendably organised defence even without the absent John Terry and Rio Ferdinand.
If the first half was a damp squib in terms of goalmouth action, the second was a far more intriguing spectacle, particularly when England took an unlikely lead immediately after the break.
Although Spain dominated possession in the first half, the goal was a just reward for England's commitment to Capello's containment plan. Spain had been frustrated and when their chance arrived, England's stand-in captain Frank Lampard compounded the Spaniards' irritation at failing to convert possession into something more tangible.
An in-swinging free kick from the industrious if unspectacular James Milner from the left-hand side was superbly met by Darren Bent, whose header clipped the inside of the near post and fell invitingly to the ever opportunistic Frank Lampard to nod into an empty net.
The World champions had over 40 minutes to re-stamp their authority on an England side devoid of Terry, Ferdinand, Wayne Rooney, Steven Gerrard and the increasingly influential Jack Wilshere.
Spain's response was almost immediate, after a beautiful through ball by Sergio Busquets was picked up by David Villa, but having rounded Joe Hart he found the side netting from a tight angle.
A raft of changes saw Jack Rodwell and Danny Welbeck introduced for Phil Jones and Darren Bent, while Vicente Del Bosque responded by replacing Busquets with Fernando Torres. Silva, Xavi, and Iniesta shortly followed but Spain continued to threaten and Villa was unfortunate to hit the post when Glen Johnson's poor defensive header fell to the ever slippery forward. Their country's all-time leading scorer cushioned an expertly executed half-volley against the far post as Spain pushed for an equaliser.
As England dropped deeper and deeper Fabregas got away from Ashley Cole and looked to draw it back to Pique when he perhaps had the opportunity to test Hart. Only Scott Parker's brilliant late intervention prevented the former Manchester United youngster from having a shot on goal, and it was typical of the midfielder throughout an inspiring display. On the evidence of the last 15-months, Parker has emerged as one of England's most dependable and impressive performers and injury permitting should start next summer's tournament.
Cesc Fabregas missed two good chances to score, one of which was saved by the largely underused Joe Hart, and although England were retreating further and further into their own penalty box, they withstood Spain's efforts to equalise.
England can get take plenty of heart from their performance particularly given their recent psychological brittleness which so undermined their efforts at last summer's World Cup.
While no one made an irresistible claim to replace the suspended Wayne Rooney for next summer's European Championship group stage, Welbeck was a willing runner of the channels and his pace certainly unsettled an increasingly stretched Spanish defence.
The vast majority of England's side illustrated intermittent quality throughout but their collective resolve and defensive fortitude, encapsulated by the brilliant Jagileka and Lescott, will certainly encourage Capello.
Whilst no one will be championing them as favourites for next summer's tournament in Poland and the Ukraine based on Saturday's efforts, Fabio Capello will be hugely heartened by his side's resolve and passion in defying the European and world champions at Wembley.