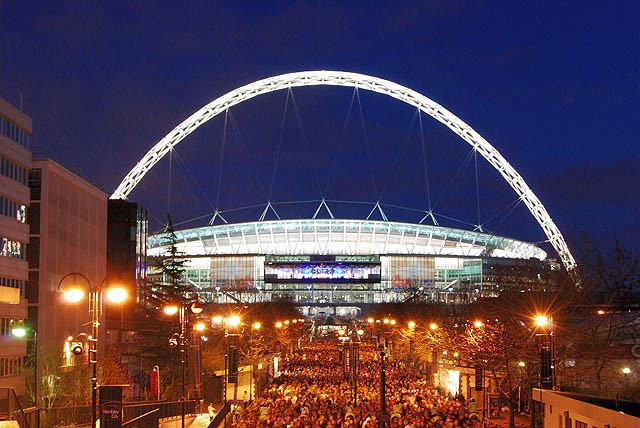 Football Association bosses are holding talks to change the name of Wembley Stadium in a deal which could be worth up to £8m a year.
It is understood that up to four companies interested in the rights, and mobile phone firm EE is leading the race to have its name emblazoned on the stadium.
Sports business website Sportcal was told by the FA: "Yes, we have been in the market for a lead sponsor, and we are now talking with four different brands.
"We just don't know when this will be finalised. It could be done in the near future, but it could take up to a year.'
EE formed in 2010 from a merger between the phone operators Orange and T Mobile. A spokesperson from the company refused to be drawn on a potential Wembley deal, telling IBTimes UK: "We do not comment on rumour and speculation.
The phone giant admitted it is currently in talks with a number of big name organisations about signing sponsorship deals. However, no deal has been yet been struck.
An FA spokesman was adamen was asked by IBTimes UK about the liklihood of the iconic sporting venue being renamed. A similar move at Newcastle United by owner Michael Ashley sparked outrage among Toon fans.
"There are no naming rights available for Wembley Stadium and there is nothing to report about any rights deals being signed, with any company at present," he said.
"It is no secret that we've been in the market for a lead partner but throughout we've maintained that no naming rights are available and this point remains."
Of course, corporate sponsorship by the FA is nothing new. England stars such as Wayne Rooney and goalkeeper Joe Hart wear training gear adorned with Vauxhall insignia, while the FA Cup is sponsored by Budweiser.
Building work by Mutliplex finally finished on Wembley stadium in 2007. Today, the governing body of the game is saddled with debts adding up to £42.6m a year, after construction cost £757m.