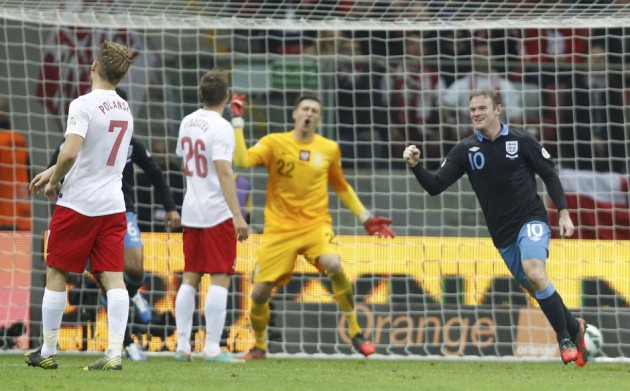 17:53: England stay top of Group H, one point ahead of Montenegro. Poland are third meanwhile. The concerns for Roy Hodgson will be that uin four qualifying matches, England have failed to beat their genuine rivals for the top two, while slaying the minnows of the group. Thatn will have to change in the middle third of the group stage. Sta with IBTimes UK reaction from the point in the Polish capital.
17:49: Despite Poland having much of the ball, and exerting much of the pressure, England are likely to be disappointed with a point in Warsaw. Wayne Rooney headed the visitors ahead, but it was Joe Hart's error which allowed Kamil Glik to give Poland a much needed point in their attempts to reach the 2014 World Cup.
Full time: Poland 1-1 England
17:45: Obraniak comes off with Borysiuk coming on to plug a gap in midfield. While the hosts have been the better side the chances have really fallen England's way, especailly in the second half. Hard to argue with the result as we enter three minutes of added on time.
17:43: Another opportunity after some decent England build-up, as Gerrard releases Milner with a clever flick round the corner, and his cross is just beyond Welbeck and Tyton claims the ball. Two minutes left.
17:41: Perhaps England's best opening since they went behind as Milner crosses towards Welbeck, but his flicked header has no power and the ball goes behind.
17:37: England fail to learn from the equaliser and Glik again gets free in the box from Obraniak's corner, but the ball drifts over the bar. In what is likely to be a tight World Cup qualfying group England have the chance to stamp their authority on it. They're currently missing that chance. A second Polish change as Grosicki is replaced by Milik for his competitive debut.
17:33: Even with 13 minutes left you get the feeling Poland have got what they came for in this qualifier and it's England doing all the pressing with Cleverley unable to find Gerrard. At the other end the Poles go looking for a winner and Hart turns over Piszczek's cross-shot.
17:30: This performance from England evokes memories of their Euro 2012 campaign, as they've sat off and encouraged their opposition. After Lewandowski is tackled by Jagielka as he tries to drive through, Chamberlain wins a corner after digging out a cross towards Danny Welbeck.
17:28: A goal has been coming from both ends, and eventually it's Poland who get in with 19 minutes left. Joe Hart comes for an Obraniak corner and gets no-where near the ball as Kamil Glik's drops a header into an unmanned corner of the net. Wayne Rooney has gone off for England, with Alex Oxlade-Chamberlain coming on. Strange move from Roy Hodgson.
Goal: Poland 1-1 England (Kamil Glik)
17:25: Although their forays into the Polish half are few and far between, England do look like scoring everytime they do. England have four against three on the break and Milner puts Welbeck through, his pass is overhit but the United forward rounds Tyton and darts towards goal. By now defenders have covered and Welbeck finds Rooney, but on his weaker left side he smashes over.
17:22: Changes for either side now. Danny Welbeck comes on for Jermain Defoe, while just before that free-kick Mierzejewski replaced Wszolek.
17:21: England win a free-kick on the right and Gerrard gets the ball in, the away side have runners everywhere and it's Defoe who gets free but his volley is off target, and into a group of players at the near post and somehow Poland survive.
17:19: Referee Gianluca Rocchi looked a bit of a fool yesterday as he attempted to roll the ball on the sodden surface last night, and as it turns out, his work during the game isn't much better. Glen Johnson gets the wrong side of Wszolek, who brings the right-back down in the area, but despite having a perfect view, the Italian waves away the appeals.
17:16: Well Rooney defensive work almost puts England in real trouble. His clearance is half hearted and the ball is worked out towards Piszczek on the right, who has all the time in the work to find a cross, and when the ball evades the England defence Wszolek's shot is blocked. Piszczek tries a shot a minute later, which hits the side netting, but Hart was always likely to get a hand on.
17:12: Not that England can get much more negative in Warsaw, but Wayne Rooney is being asked to fill in on the left hand side, as they look to double up on the rampaging Piszczek, who has the source of everything the Poles are creativing going forward.
17:10: Waldemar Fornalik's side are very tidy in the middle of the park, but it's once they get into the final third that their ideas instantly run out; somewhat a story of their Euro 2012 campaign which saw them exit the group stage. Polanski is the latest to scupper an opportunity at the edge of the box, as the ball runs through to Joe Hart.
17:07: Poland are finding Rooney too tough to handle at the moment, and the Manchester United forward is dictating. Wasilewski's clearances from Gerrard's cross can only find Rooney, whose cross tries to pick out Defoe, but the Spurs winger has the ball taken away from him as wound-up a volley.
17:05: Obraniak shoots from range and Joe Harts gets a strong hand to the ball and the ball goes over for a corner. England clear from the set piece but through Jermain Defoe, they miss the opportunity to break.
17:04: At the other end, England should have doubled their lead. Rooney picks the ball up in the left hand channel, and suddenly the visitors have two over on the right hand side. Rooney's pass misses Milner and finds Gerrard, whose first touch is too heavy and Poland survive. End to end stuff now in Warsaw.
17:02: A crucial 45 minutes for Roy Hodgson coming up and it almost starts with an equaliser for the hosts. The cross from the right is missed by Phil Jagielka, but before Grosiki can capitalise, Johnson gets the ball behind for a corner.
17:00: Not a great deal to get excited about I must admit in that first half, and part of that could be down to the saturated National Stadium pitch, which has looking slow in places, but lightning in others. Long balls have plugged like a flighted wedge into a green-side bunker and that has affected the tempo of both sides, particularly the visitors. Not much evidence of the Polish players not being interested in playing, given that many have league commitments on Friday. We're underway in the second half in Warsaw.
4.45: HALF-TIME: Poland 0-1 England - It is fair to say that England have now played particularly well but the scoreline is what matters for Hodgson here today. His side can move three points clear of second placed Montenegro should they pick up a victory.
4.43: We have another effort on goal but it is high, wide and handsome from Glen Johnson. Poland go immediately down the other end and Lewandowski helps the ball on to Grosicki who can only flick the ball wide.
4.40: Rooney wins another header from a corner but this time it is to clear from his own penalty box. England have struggled to find any sort of rhythm but they do have an important lead.
4.39: Ashley Cole has picked up a bookoing for time wasting as he looked to take a throw-in. Strange decision from the referee that one.
4.38: Again there is some sloppy play from England but Poland have thus far failed to create a clear cut opportunity.
4.35: England have another chance from a set piece as Defoe is fouled by Polanki on the corner of the area. Gerrard's delivery is good again but a defender gets his head on the ball and it falls to Cleverley. His shot is low and hard, but ultimately wide,
4.32: Poland threaten to instantly reply as Lewandowski eases past Milner as he heads into the box. However, his final touch is too heavy and England can build from the back.
4.30: GOAL: Gerrard again trying to kick start tis performance in to life. He combines with Ashley Cole and it is another corner. The Liverpool man takes it and Wayne Rooney hands Hodgson's side the lead. It was poor marking from Poland and the United forward simply stood his ground and attempted to head it in the corner. It went were he wanted but via his shoulder.
4.28: A scare for England as Robert lewandowski shrugs off a challenge from Cleverley and he fires across Joe Hart's goal. Fortunately it is wide, very wide and goes for an England throw-in.
4.26: England have their first corner as Milner's cross is blocked. Skipper Gerrard decides to take but it is easilly cleared and it all comes to nothing.
4.24: Gerrard is desperately trying to make things happen and he has combined well with Rooney on a couple of occasions. These two have rarely started a game together in recent seasons, Hidgson needs big performances from both men.
4.21: Defoe is cutting a very lonely figure up top by himself. Rooney is dropping to deep to help in possession but it seems it will be a tough night for the Tottenham forward. Gerrard is getting frustrated at a lack of options as England struggle to put any moves of substance together.
4.18: While Poland have genuine width and pace, England are very narrow on the left as Cleverley is playing far more centrally. Milner has had some success but Poland have started well here.
4.14: Poland are enjoying a decent little spell and they appear to have some serious pace down the right hand side. Piszczek is going to be a real handful for Ashley Cole tonight.
4.11 We now have our first yellow card of the game as well and it goes to Eugen Polanski as he brings down Defoe just inside the Poland half. Bit of a soft booking in all honesty.
4.08 First genuine chance of the game and it falls to Grosicki who swings with his left-foot from aroundd 10 yards but he scuffs the shot and it won't even make it to Joe Harts goal.
4.06: England have looked long an a couple of occasions already with Gerrard and Cleverley both hitting raking 50 yard passes. Neither have led to an opportunity but the ball is slowing massively and it could be a clever ball if Defoe makes the right run.
4.02: Rooney claims he was bundled to the ground as James Milner beats his man and gets to the byline. Referee waves away the protests and there seemed little in the challenge.
3.58: The national anthems have been completed and we are nearly ready for kick-off. A little strange that it is 4pm on a Wednesday but who are we to complain. At least we have a game of football and don't have to watch Adrian Chiles filling two hours of air time.
3.55: People may have missed this last night but there was a shock in this group as Montenegro secured a shock 1-0 victory over Ukraine. That leaves England with the chance to take control of this group if they secure victory in Warsaw.
3.50: Roy Hodgson says that "the pitch is perfectly playable" as it is confirmed that Cleverley will play on the left. Slightly strange choice but it seems Roy is a big fan of the United midfielder.
3.42: Nice hearing that the England players will go some way to reimbursing the fans who have remainined in Warsaw. Here is the official line from the Press Association.
"England's players are to part-fund a £50,000 money-back scheme for fans affected by last night's World Cup postponement in Warsaw.
Whilst the Polish Football Federation have already confirmed they will refund the cost of tickets for fans unable to attend this evening's match, the FA have taken it a step further.
Together with the England Footballers Foundation (EFF), they have agreed to cover the costs of tickets refunds for fans who did remain in the Polish capital.
In addition, The FA and players will invite every one of the 2,500 fans who bought tickets and travelled to the game to a special England training session at Wembley Stadium or St George's Park before the end of the season."
3.40: So thankfully we can now concentrate on the football and what is perhaps the toughest game in this group for England. It's a strong line-up with plenty of experience as Steven Gerrard and Ashley Cole both win their 99th caps. Tom Cleverley will also look to continue his impressive rise to stardom as he continues to play a major role for both Manchester United and England.
3.30: Team News: As expected Roy Hodgson sticks with the same XI that was announced yesterday. Poland will be hoping that Robert Lewandowski can cause the England back line problems. The Borussia Dortmund hitman has been in excellent form this season and will be a genuine threat.
Poland: Tyton, Piszczek, Wasilewski, Glik, Wawrzyniak, Krychowiak, Polanski, Wszolek, Grosicki, Obraniak, Lewandowski.
England: Hart, Johnson, Jagielka, Lescott, Cole, Milner, Gerrard, Carrick, Cleverley, Rooney, Defoe.
Referee: G Rocchi (It)
3.26: Pitch News: It's still rather soggy looking and you can expect it to cut up pretty badly as the game gets underway. We would suggest using the cricket technique of running a giant piece of rope over the field, however, we're not really sure how much that method really helps. In any case, the game will go ahead and you all have a cheeky reason to finish work early today. That or sneak a peek at our live text coverage.
3.25: With just over half an hour until the scheduled kick-off we are happy to announce that there is bright sunshine in Warsaw. It is a far cry from the fiasco of yesterday evening and we are certain to get a game today. We have had a man on roofwatch duty all day and it seems it will remain shut. That is after it was closed last night, reopened this morning to help dry the pitch and eventually shut in the afternoon.