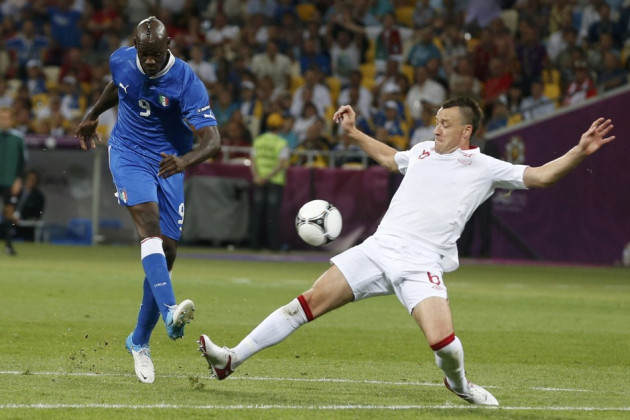 22:30: Italy reach the semi final of the European Championship after they beat England 4-2 on penalties, and after a one-sided contest in Kiev, the Italians deserved to go through.
In the shoot-out, England had a last four place in their grasp, but Ashley Young smashed the ball against the bar and Ashley Cole saw his tame spot kick saved by Buffon.
There's little doubt England have exceeded expectations having reached the quarter final, given their problems before the tournament and but be credited for their resilience.
I hope you have enjoyed IBTimes UK's live coverage of England's Euro 2012 quarter final against Italy. See you next time.
England 2-4 Italy Diamanti scores - Italy go through to the quarter final
England 2-3 Italy Cole misses
England 2-3 Italy Nocerino scores
England 2-2 Italy Young misses
England 2-2 Italy Pirlo scores
England 2-1 Italy Rooney scores
England 1-1 Italy Montolivo misses
England 1-1 Italy Gerrard scores

England 0-1 Italy Balotelli scores
22:17: I'll try to keep apace with the shoot-out as the drama unfolds. A hero will be made in Kiev.
22:16: Well after 120 minutes, it comes down to penalty kicks, and this fixture brings together two of the worst countries when it comes to spot kicks. England have won only one penalty shoot-out in major competition, against Spain 16 years ago, while Italy have lost two major finals last eight games in a penalty competition, but did win via a shoot-out in the 2006 World Cup final.
Full time: England 0-0 Italy
117 mins: Diamanti has another chance from a set piece, but his corner goes beyond everyone inside the England penalty area.
115 mins: That might have been Italy's chance. After patient build-up Barzagli finds Diamanti but he can't get his left foot round it and the ball goes wide. Italy do breach England, but Diamanti's cross finds Marchisio, who headed into the roof of the net, in an offside position.
110 mins: Italy penning England in and really turning the screw. Diamanti's free kick is headed away from Balotelli by Lescott, before Terry clears Pirlo's ball back in.
107 mins: In any level of football, it's disappointing to see a team so obviously play for a draw, and in a knock-out situation, penalties. England are doing just that. Italy running out of ideas it seems as Diamanti shoots over from a tight angle.
21:59: England did have one thrust into Italian territory at the end of extra time, but after Johnson fed Walcott, the Arsenal man over hit his cross towards Carroll. Italy about to start the second half of extra time.
Half time in extra time: England 0-0 Italy
103 mins: The ball is not sticking at the head of England's attack, so it's continually being pumped back into their defensive third as soon as they lose it. After sticking it out for extra time, it seems England are happy with penalties on this showing.
101 mins: Italy just toying with England now at the edge of their own box, and they almost hit the front via a cross shot from Diamanti, which strikes the outside of the post. The second time the Italians after struck the woodwork.
100 mins: Balotelli, as Italy have been all evening, needs no invitation to shoot from range, but his effort is deflected into the hands of club teammate Hart. His strike a minute later yields a similar result.
97 mins: England break with Walcott, but Rooney is crowded out and immediately Italy look a threat but Balotelli can't latch onto a ball over the top.
93 mins: It's as you were at the start of extra time. Italy dictating possession but Nocrino's effort is high and wild. Maggio fouls Young on the left, and the defender is booked, and will miss the semi final should Italy go through. Scott Parker is replaced by Jordan Henderson. Gerrard's free kick is decent, but offside is called on John Terry.
21:40: England get extra time underway.
21:38: So after 28 games of Euro 2012 we have the first goalless draw in normal time. Italy have dominated the game from the outset with England hanging on at times, particularly in the second half. Roy Hodgson will be concerned with how England have thrown the ball away while Cesare Prandelli will worry whether his side have already missed the chance to book a place in the last four.
Full time: England 0-0 Italy
90 + 1 mins: Abate is replaced by Christian Maggio in stoppage time. England sitting in now, but Walcott breaks free and after Young tees up Ashley Cole, Carroll's header across goal finds Rooney, but his acrobatic effort goes over the bar. Could the last chance in normal time.
89 mins: Nocerino gets away from England's back four, but Johnson blocks the goal bound effort. England deal with the resulting corner but they're hanging on for extra time. Three additional minutes in Kiev.
86 mins: England seem content with extra time as they persist with sitting back as Pirlo, who has taken up a deeper role upon Nocerino's introduction, cuts a frustrated figure. England waste another chance to create an opening, as Parker can't find Walcott, following Andy Carroll's good work.
82 mins: England win another free kick deep inside the Italy half, after Barzagli is booked for a foul on Young. Bonucci is all over John Terry, but the ball falls to Parker who smashes into Balzaretti, but the game is stopped as the defender receives treatment.
79 mins: Carroll wins a free-kick midway inside the Italy half, which Gerrard crosses in but Rooney can only a get a feather on as Buffon gathers. At the other end, Italy bring on Alessandro Diamanti for Antonio Cassano, and after Hart punches away under pressure from Balotelli, the former West Ham man has a chance to cause havoc, but Hart deals with his corner. Antonio Nocerino replaces Daniele De Rossi.
75 mins: An understatement to suggest England can't get out of their own half. Ashley Young the latest man to be guilty of losing the ball in his own half, but Balotelli and Montolivo can't take hammer home.
69 mins: England having more joy when they go long towards Carroll than when they decide to pass the ball from the back, and they almost cut through Italy, but Parker's through ball is over hit. England have continued to drop deeper, and deeper as the half has gone on, allowing Italy plenty of time on the ball in the midfield, but as yet the Italians have yet to take advantage.
65 mins: Carroll already causing problems, and after Walcott's cross creates confusion, the ball breaks to Young, but Balzaretti gets the block in and ball goes for a corner.
62 mins: Carroll will look to expose a deficiency in Italy's ability in the air at the back. Welbeck was able to out-jump both Bonucci and Balzaretti for most of the first half. The Liverpool forward wins the first header floated into him. Italy finding more space in midfield already and Pirlo finds De Rossi, whose volley is wild and over the bar.
59 mins: Abate has another opportunity to cross the ball, which deflect up into the Kiev night; Balotelli plucks the ball out of the air, and produces an overhead kick which goes over the bar. Andy Carroll and Theo Walcott have replaced James Milner and Danny Welbeck.
57 mins: While Italy's dominance is becoming more sustained, England's attacks are now sporadic at best. Cole has to be alert to cut out Pirlo's threaded pass to Abate.
51 mins: You get the feeling that rather than the first goal deciding this contest, that it will just be the precursor to the game opening up more. Parker is caught in possession, and Abate, who is Italy's only threat from wide, crosses with Terry heading behind with Balotelli closing in. From the corner Hart again fails to hold De Rossi's shot, but Balotelli is ready to pounce, first shooting at Hart, before Montolivo volley's over. England's goal living a charmed life.
48 mins: Just like in the first half, Italy react in kind, and Abate's cross fizzes across the England goal but behind to safety. The resulting corner sees England clear, but the ball is headed back in and De Rossi, from all of three yards, drags wide. Best chance of the game thus far.
46 mins: England looking for a fast start like against Ukraine, and Scott Parker almost delivers it, as he gets free down the right, but his cross in behind Welbeck and Rooney, who both rushed to the near post.
20:45: Both teams are out for the second half. England to restart.
20:40: Pirlo really is pulling the strings for Italy, and as yet, such is England's deep defensive shape, that neither Gerrard nor Parker are getting close to the Juventus midfielder. He's being allowed free reign of the central area in midfield.
For England, Hodgson will worry about the limited contribution of Wayne Rooney, who has drifted in and out of the game, and when he has been involved, has been wasteful on the ball.
20:35: Chances aplenty in the opening 45 minutes in Kiev, but Italy can argue they have had the better of the opening. Balotelli, who was likely to be involved regardless of the result, has had two openings with John Terry and Joe Hart both coming to England's rescue. Daniele De Rossi struck the post inside four minutes.
Glen Johnson and Danny Welbeck enjoyed the best chances of the half for England, with Buffon Italy's knight in shining armor, keeping out Johnson's effort, while Welbeck was bereft of his usual composure when it mattered.
Half time: England 0-0 Italy
43 mins: England must make more of their opportunities on the break, but with four against three in their favor after Italy mess up a free-kick, but Ashley Young ignores the free James Milner, and finds Rooney instead, whose cross is cut out.
40 mins: Daniele de Rossi should be completing the remainder of this game in the knowledge he won't be playing in the semi final, but he isn't booked for his challenge on Rooney. Italy turning the screw as England sit off and Cassano's header across goal is in towards Balotelli, but Lescott turns the ball over the bar.
38 mins: Antonio Cassano has made a habit of cutting in and striking with his right foot in the early moments, and up until now has been hugely wasteful, but the forward finds his range this time, forcing Hart into a parry.
34 mins: A very even game as things stand in Kiev, with chances apiece. Mario Balotelli and Danny Welbeck will be thinking what if, but those opportunities are unlikely to be the last in this open contest.
32 mins: England on the counter are always possessing a threat and Wayne Rooney flicks the ball into Welbeck's path, but he can't add to his two international goals, as the ball sails over Buffon's crossbar.
31 mins: England are very happy to sit back and allow Italy to play through them, but with little success as Gerrard and Parker pick off lose Italian passes . Attacks are coming in their waves, and Balotelli gets free again as England fail to keep hold of the ball, but Hart gathers.
28 mins: Despite the success of both sides in the final third, the influence of Steven Gerrard and Andrea Pirlo has been limited. Both have spent more time in their own half in the opening minutes. Montolivo shoots harmlessly from range.
25 mins: The first genuine chance in nearly ten minutes, and it's an Italian ball over the top, which catches England out. Balotelli escapes the offside trap, but the combination of John Terry and Joe Hart snuff out the threat.
23 mins: He might have been quite in an attacking sense, but Welbeck is winning nearly every ball England punt into the Italian half with Andrea Barzagli having a torrid time keeping with the Manchester United forward.
21 mins: Andrea Pirlo's corner, and Italy's first, is whipped into the near post, but Danny Welbeck, who has been a little quiet in the early stages, heads away before the ball goes out for a goal kick. Cassano smashes over from 25 yards.
19 mins: A slight lull in the attack intent of both sides, Italy almost tricking their way through as Antonio Cassano bared down on goal, before Joe Hart cut the ball out before Steve Gerrard's first involvement sees him over hit a right-wing cross.
13 mins: Ashley Young's teasing cross is in-between both Rooney and Welbeck but instead of claiming the ball comfortable, Buffon fists the ball back into danger, but Italy survive. Johnson is again finding himself in a forward position and his cross finds an incoming Rooney but Abate clears the ball against the forward.
11 mins: Rooney gets free on the left hand side, and feeds the ball into the near post where Welbeck is prowling, but Bonucci gets the ball behind. The subsequent England corner is in towards Rooney, but it cleared to safety.
8 mins: Johnson's effort might be almost straight at Buffon, but the Juventus goalkeeper gets a really strong left-hand to the shot from all over six yards. Really decent save from the World Cup winner. Italy meanwhile are looking to go direct early to find Cassano and Balotelli. England having move the ball at this stage however.
5 mins: England's first foray into the Italian half is a decent one and they should be ahead too. James Milner eventually gets clear on the right hand side, and finds, via two deflections, Glen Johnson six yards out, but his goal bound is kept out by Buffon. Open start from both sides.
4 mins: England have barely had a kick in the opening moments and they could be behind, Daniele De Rossi smashes the ball goalwards with his left foot, a sliced effort which beats Joe Hart but strikes the inside of the post. Big let off.
1 mins: Italy dominate early possession and Mario Balotelli has the first effort in anger, from nearly 40 yards, a tame effort which Joe Hart has no issue picking up. Terry and Hart almost get in a mix up, but the Chelsea skipper gets the ball clear.
19:45: The Anthems and the pre-match pleasantries are over. Italy get us underway in Kiev.
19:40: The history books tell us that Italy have nine wins and England seven from the pair's 22 meetings. The last meeting between the two saw two Vincenzo Montella's double down England at Elland Road in 2002. England haven't been victorious since 1997 against the Italians, and did draw the last competitive meeting in Rome on the way to World Cup qualification in the same year.
19:35: Worth noting those players who are a yellow card away from missing the semi final, should their team be victorious. Ashley Cole, Steven Gerrard, James Milner, Ashley Young and Alex Oxlade-Chamberlain must be careful for England, while Federico Balzaretti, Mario Balotelli, Leonardo Bonucci, Gianluigi Buffon, Daniele De Rossi, Riccardo Montolivo and Thiago Motta and Christian Maggio are all on the precipice for Italy.
19:30: So many talking points prior to this contest, and whatever the result tonight, you feel the figures of Wayne Rooney and Mario Balotelli will play a part.
Much has been made of the temperament of both players, and their ability to be a destructive influence in one-way or another.
After contributing to a major finals exit with England during the 2006 World Cup, Rooney has endured the criticism that comes losing your head on the big occasion, while Balotelli has regularly seen his club career marred by headlines made on and off the pitch.
The Manchester City forward was sent off twice last season, was banned for stamping on the head of Scott Parker, who he is likely to come into contact with this evening, and survived addition charges from the Football Association for a disgraceful tackle on Alex Song.
But City fans have also enjoyed the brilliance side of Balotelli, and his excellent volley against Ireland last Monday is proof of the undeniable threat he carries.
19:20: While England have had to tackle to the circumstances surrounding the late appointment of Hodgson, the non-selection of Rio Ferdinand and injuries to the likes of Frank Lampard, the Italians have battled adversity also.
Domestic match-fixing allegations, which deprived manager Cesare Prandelli of Domenico Criscito following police investigations, the racial abuse directed at Mario Balotelli and the homophobic comments made by striker Antonio Di Natale have contributed to a disruptive tournament for the Azzuri. But as they showed in 1982 and 2006, the Italians have a history of defying the criticis.
19:15: England are unchanged for the first-time in the tournament, with Wayne Rooney again partnering Danny Welbeck in attack.
Italy are forced into three changes from their win over the Republic of Ireland. Injuries to Thiago Motta and Giorgio Chiellini see them make way for Leonardo Bonucci and Riccardo Montolivo, while Mario Balotelli starts ahead of Udinese's Angelo Di Natale.
19:10: Teams:
England: Hart, Johnson, Terry, Lescott, Cole, Milner, Gerrard, Parker, Young, Rooney, Welbeck.
Italy: Buffon, Abate, Barzagli, Bonucci, Balzaretti, Pirlo, Marchisio, De Rossi, Montolivo, Balotelli, Cassano.
Referee: Pedro Proenca
19:00: Welcome to live coverage of the European Championship quarter final between England and Italy.
After taking over at the beginning of May, few could have believed that Roy Hodgson would not only be unbeaten at this stage of his tenure as England manager, but to be favorite to make the last-four of a major competition for the first time in 16 years.
Victories over Sweden and Ukraine have preceded the opening game draw against France, to thrust themselves into genuine contention for the semi final.
The Italians meanwhile required just a single win from their group stage games to progress from group C. A 2-0 win over Republic of Ireland followed draws with Spain and Croatia.