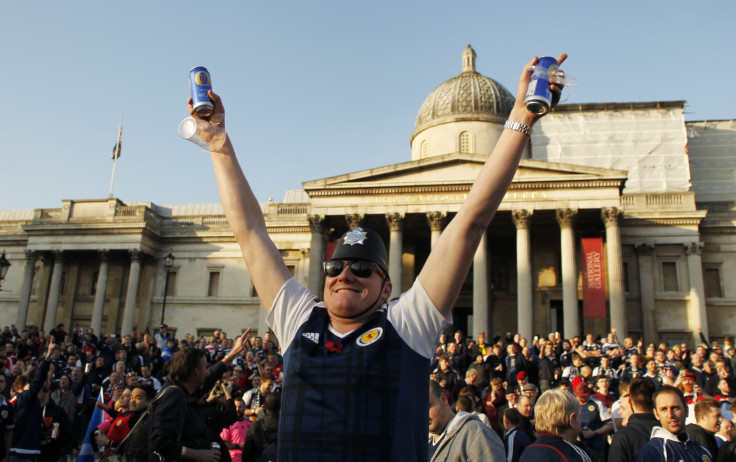 Thousands of chanting Scotland fans took over Trafalgar Square in London on Friday (11 November), ahead of their World Cup qualifier against Auld Enemy England at Wembley Stadium.
Wearing kilts and waving flags, the travelling supporters were seen drinking heavily and singing songs.
The "Tartan Army" also let off flares, climbed up Nelson's Column and flashed their privates to passers-by.
One fan was seen wearing a mask of Donald Trump in a nod to the President-elect's Scottish roots, while another unravelled an Iceland flag to taunt England supporters following their team's embarrassing early knockout from the Euro 2016 championships.
The atmosphere in the square was mostly good-natured, with only minor scuffles breaking out between Scotland fans and a small group of England supporters.
Blood was seen pouring from one fan's leg as paramedics attended to a person with concussion, and at least one citizen was taken by ambulance from the scene. It is not know if the injuries were the result of fighting or accidental.
The Metropolitan Police said there had been no arrests but added that there was a large police presence in the square.
About 14,000 Tartan Army supporters were expected to descend on London for the sellout match, which kicks off at 7.45pm.