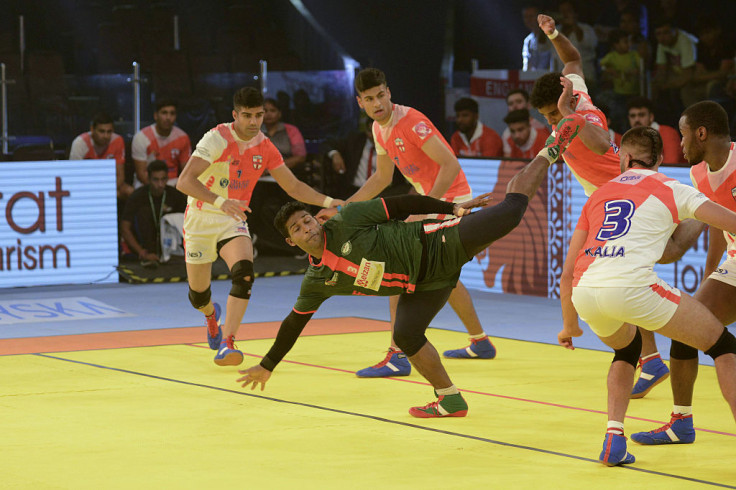 England will take on Australia in the ninth match of the 2016 Kabaddi World Cup at the Arena by TransStadia in Ahmedabad, Gujarat on Monday (10 October). The two sides are pitted in Pool A and will play against each other in their second match of the tournament.
England and Australia suffered defeats in the first match of the world cup and have a chance to bounce back on Monday.
Bangladesh registered a crushing victory over the English side as the final scoreline was 52-15 in the Asian nation's favour. England will be looking to put this defeat behind them when they face their second opponent in Ahmedabad.
Australia, on the other hand also suffered a humiliating defeat against India. The defending champions were looking to bounce back following their defeat to South Korea and Campbell Brown's side.
Having the likes of South Korea, India and Bangladesh, it will be a tough task for either England or Australia to make it to the next round of the tournament.
Where to watch live
The match starts at 3.30pm BST/10.30am EST. Sky Sports will provide coverage of the match in the United Kingdom, while Star Sports in England are the official broadcasters of the 2016 Kabaddi World Cup. Live streaming will be available on the Sky Sports website in the United Kingdom and Hotstar in England.
TV Guide
United Kingdom: Sky Sports
England: Star Sports
England of America: Fox Sports
Canada: CBN
Saudi Arabia: OSN Sports
Squad
England: Someshwar Kalia (captain), Akash Sood, Keshav Gupta, Jay Depala, Joshua Enson, Mason Dhani -Ali, Meredydd Rix, Nikesh Farmah, Pavan Davies, Philip Mottram, Tejash Depala, Yuvraj Pandeya, Milan Nayee, Temi Adewalure.
Australia: Campbell Brown (captain), Adam Schneider, Benjamin Nugent, Matthew Kos, Nicholas Cunningham, Nishant Sangwan, Stephen Milne, Thomas Sharp, Domnick Lo Presti, Jasvir Singh, Kuldeep Singh.