Is enough being done to protect the endangered Asian Elephant?
STAE CEO Duncan McNair described the treatment he witnessed as "just so truly awful".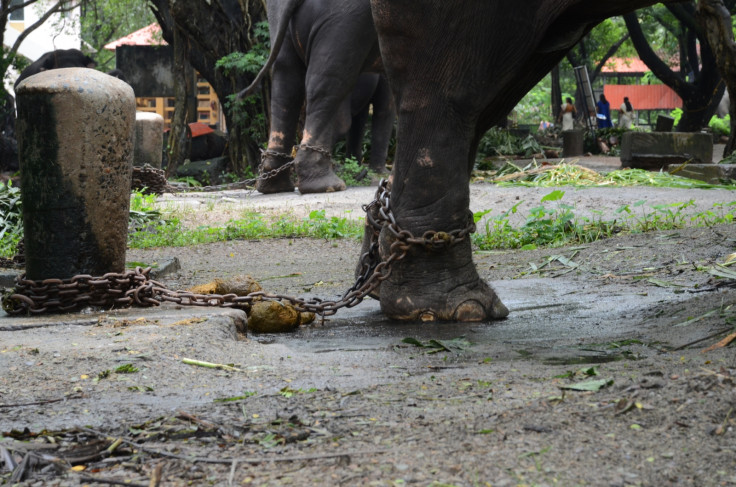 Lens-flared images of happy tourists riding on elephants while on package holidays to Asia might have the tint of exotic adventure, but with the Asian Elephant's population falling and stories of animal cruelty and even a backlash from some elephants becoming more common, what is really being done to protect this beloved species?
Not enough, according to Duncan McNair, chief executive of Save The Asian Elephant (STAE), a group campaigning to end the brutal treatment some elephants endure in South Asia – often in the name of tourism. "Sadly, there's a great deal of dissimulation and evasion that goes on in the tourist industry that enables these brutal practices to continue," McNair told IBTimes UK.
McNair started STAE after a trip to India in which he describes the things he saw as "just so truly awful". "I don't mind saying that it broke me up quite a few times," he said. Not his first time working for animal rights, McNair was also the chairman of the McNair Enquiry for the RSPCA which looked into the welfare of farmed animal across the UK.
"I've been a lawyer for 33 years now, so I've got a bit of experience under my belt," he says. He's not the only experienced part of STAE, along a number of other professionals, one of STAE's main patrons is the three-time prime minister of Bhutan, Jigme Yoser Thinley. "He's a very good man and he's supporting us," says McNair.
No single place
Though Bhutan seems to be a happier country for elephants, the problems of elephant cruelty are not isolated to a single place. In April, international media picked up the story of an elephant at Cambodia's Angkor Wat that died of exhaustion after being pushed to carry tourists up a hill in sweltering heat. In February, a British tourist was thrown to his death after an elephant turned on its handler in Thailand – with some suggesting that repeated cruelty led to the elephant's deadly reaction.
But McNair's personal experience of the cruelty elephants can suffer happened in India: "I saw four elephants at Guruvayur [temple] that had had one of their rear legs smashed – I think with an iron bar – to make them less mobile, many that had had one eye either gouged out or in some way destroyed. You can blind an elephant by repeatedly tapping on a certain part of a top of its head to break the optic nerve."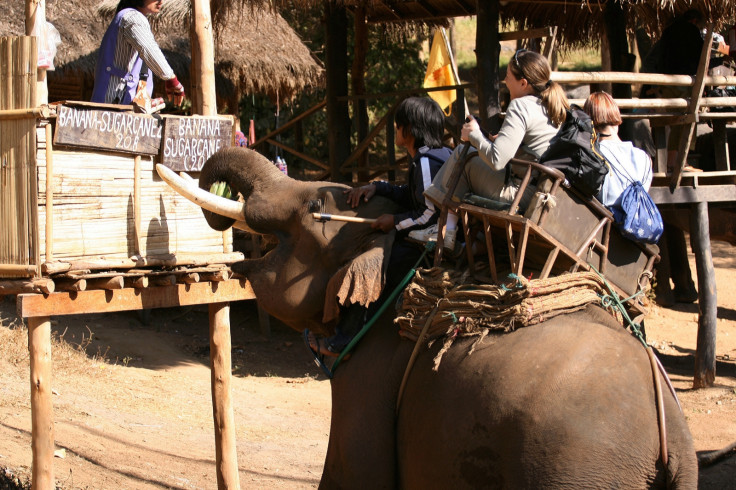 According to McNair, these practices are not traditional. "These are all recent manifestations, they're not honoured by the centuries. They're recent brutal, mindless practices that are sadly simultaneous with the intense commercialisation of elephants that has happened… in the last 40 years or so."
McNair says tourists need to research more about the packages they might be interested in. "When they're planning their holidays… they take an awful lot as read."
Endangered since 1986
The IUCN's red list has classified the Asian Elephant as endangered since 1986. They note that the population has been continuously decreasing in most places where the elephants are found.
STAE are pushing for new legislation in the UK to regulate advertising so that only elephant holidays that can prove via "current, credible, documentary evidence" that they are not abusing elephants and have never abused elephants could be shown, alongside working with ministers and groups in India to try and enforce "the Indian Ministry of Environment and Forests 2008 guidelines for the care and management of captive elephants".
The charity does not want to end elephant tourism though. McNair explains that there is such a thing as ethical elephant tourism: "On our website, you will see guidance about what is a genuine elephant sanctuary and what is not. The single probably most important feature is that elephants in a genuine sanctuary are able to express their natural behaviour – that means they're not tied to things; they're not tied down to the ground and beaten; they're not tied against trees or fences and so on; they're able to interact with their fellow elephants in a semi-natural state or fully natural state and there is limited direct contact between elephants and humans."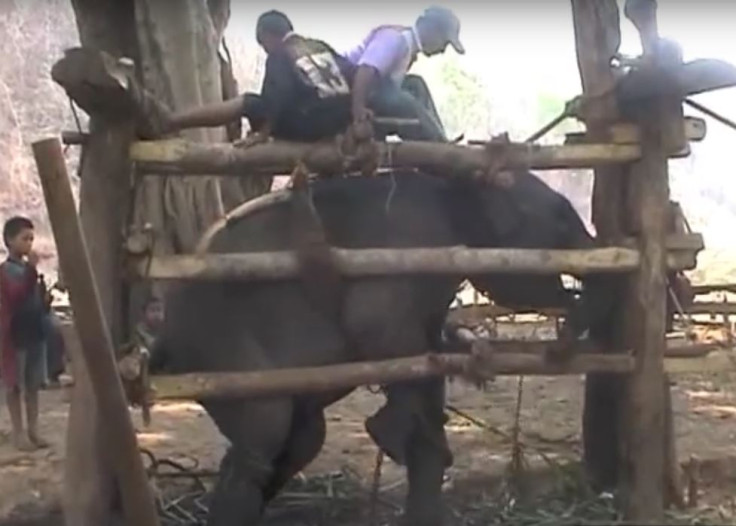 "That's a cluster of the key indicators of a genuine sanctuary as opposed to the many hideous places across the range states and elsewhere that bear that name."
McNair has tangled with the tour companies over these policies but he is not positive about their reaction. "You will be a bit shocked at the way they've treated us and ignored us when we've done so much on their whim to provide information."
The Amer Fort
The Amer Fort in Jaipur is another place McNair is familiar with. A popular tourist spot, the fort has become a significant site for activists against elephant abuse.
"Every day there are still elephants being used for commercial tourism," says McNair, "being used with heavy howlers on them and lots of fat tourists on top, being forced every day to go up and down steep hills, in boiling sun, on very hot tarmac.
"They're not the worst off elephants in India but they're in a bad state and I've looked at them closely and know the vets who work with them."
These issues are not new and the public attitude towards change is heavily in STAE's favour. Polling they commissioned from Populus in 2015 showed that people were strongly supportive of change. "All the answers came in the spread of 80-90% as I recall and the balance of those were mostly people saying 'I don't know because I don't know enough about the issue'."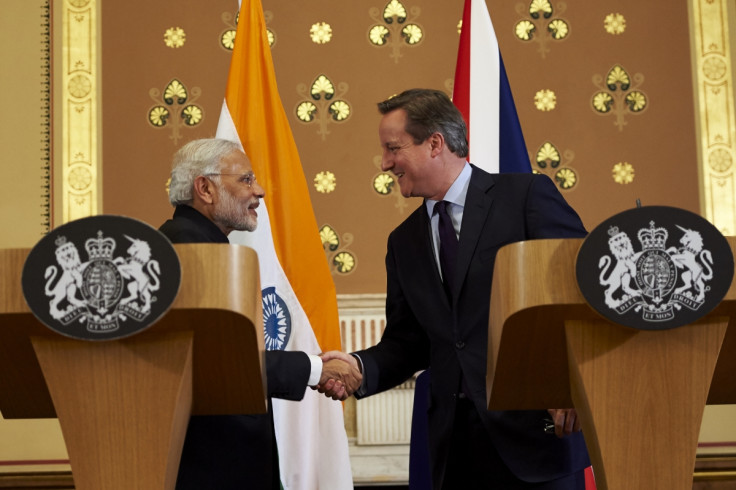 This strong public feeling could have played a part in the Conservative Party's 2015 election manifesto. In the section entitled "Protecting and enhancing our natural environment", the party pledged to "support the Indian government in its efforts to protect the Asian Elephant".
When India's prime minister Narendra Modi visited the UK at the end of 2015, the bilateral statement said that Modi and former UK prime minister David Cameron "resolved to work together to combat the illegal wildlife trade and to improve protection for both captive and wild Asian elephants".
"Needless to say, no one's done anything about the pledge," says McNair. "Cameron has departed the premiership, but it's a commitment of the Conservative government, not of him, that's why we're pushing. We think at the moment there's a dislocation between public anguish and political action."
Alongside their work pressuring governments and attempting to educate people on the plight of these elephants through initiatives like competitions in schools, STAE are running a petition "to end the cruel treatment of elephants in India" which has already garnered over 25,000 signatures.
With stories continuing to come out about the treatment of these creatures and widespread public support for action, the tide seems in STAE's favour.
More information about Save The Asian Elephants can be found at their website, stae.org

© Copyright IBTimes 2023. All rights reserved.