Sister restaurant to The Palomar The Barbary is tucked down a Seven Dials alleyway in Covent Garden, central London. There are only 24 seats and, as is often the fashion, there are no reservations.
Much like some other restaurants we've recently loved (take Bao or Hoppers), you'll have to get there early or be ready to keep coming back to check. Thanks to the residential properties nearby, The Barbary aren't allowed the kind of queue that Bao has become known for – but it could easily get one.
Saying that, you might not have wanted to queue on Wednesday evening (20 July 2016) as the London heatwave starts swallow you whole.
Our verdict
During a heatwave, you might be forgiven for not wanting to sit in a restaurant – this is particularly forgivable if that restaurant's main seating is around a kitchen area with a propensity for flames.
But don't be put off by the seating plan: it's a small space and they've done what they can with it. The vibe is less restaurant and more tavern, the food comes quickly and the servers are chatty – happy to tell you what the more esoteric words on the menu mean and then go on a little bit about restauranting, if you're into that.
Where the Palomar talks about the food of 'modern-day Jerusalem', the Barbary adds in some influences from the eponymous Barbary Coast – a fairly antiquated name for the Maghrebi area of North Africa: Morocco, Algeria, Tunisia and Libya. With the doors and windows flung open, the sun at your back and the fiery grill in your face, the slight sweat on your brow might even make you think you're somewhere on the Mediterranean.
Ordering a little manzanilla aperitif helps, too.
Sticking to the Jerusalem roots is a Jerusalem bagel, hot and soft and ready to wipe clean each plate as best you can. A little paper baggie of za'atar – a spice mix ubiquitous in the Middle East – comes on the side. Along with that a tabbouleh salad that had just the right bite while being unexpected creamy, not something you might have thought you wanted from your tabbouleh, but you thought wrong.
A cauliflower jaffa comes next, all this while the manzanilla is still being sipped. The dish is a deep-fried cauliflower topped with tomato, lemon and herbs – leaving a new, wonderful sauce for the bagel to mop up, the cauliflower too is perfectly tender.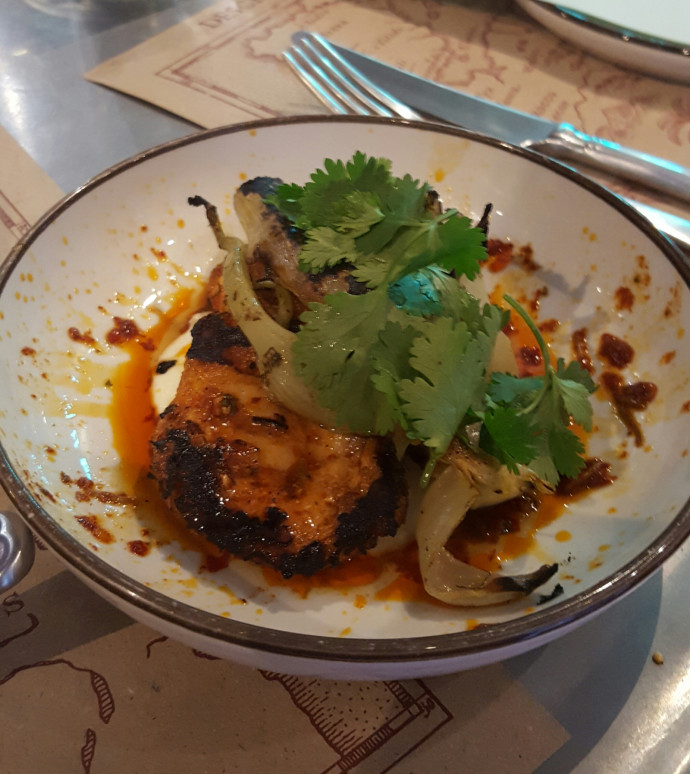 The main is a monkfish chermoula that was almost definitely in flames earlier. The smokiness and chargrilled edges are nice but the fish itself is too bland, lacking the meatiness that great monkfish dishes bring. Again, a tangy sauce pooled at the bottom of the bowl is ready for that large bagel, now suitably cooled, to soak up. Whether this combination is worth £14 is more uncertain, a slight cut would put it in a more comfortable area.
And after all this, well, you're full. So as much as the desserts sound interesting, it's Turkish coffee and the bill. Black, grainy, perfect Turkish coffee with (are you dreaming?) a glass of rose water on the side – a simple, wondrous finale of a combination.
Address: 16 Neal's Yard, Seven Dials, London, WC2H 9DP
Times: Tuesday to Friday, 12pm-3:30pm, 5pm-10pm. Saturday and Sunday, 12pm-10pm
Website: thebarbary.co.uk
Prices: Jerusalem bagel = £4; Tabouleh = £4; Monkfish Chermoula = £14; Cauliflower Jaffa = £6.50; Manzanilla = £4.80; Turkish Coffee = £4. Total = £37.30
The prices stack up a bit quicker than expected but the bill states firmly that the prices all already include service – no pesky 12.5% extra, which is a welcome note. For a quick meal that, although friendly, doesn't feel too sure that you should hang around much after, the tag might be a put off – but for where you are and what you're getting, the value is quickly obvious.
Surprisingly though, early on a Wednesday evening, the place is empty. It'll fill up later for sure, but maybe the sun is too much of a drag to the parks and away from the side roads of Covent Garden.
Still, sweaty as you might get, no one is regretting their decision. A family on the stools next door are asked by a server whether they're enjoying their meal and instead of the stock 'Yes, very much, thank you', a woman gushes "It really is lovely".
NOTE: James Tennent ate at The Barbary anonymously and paid for his own meal.