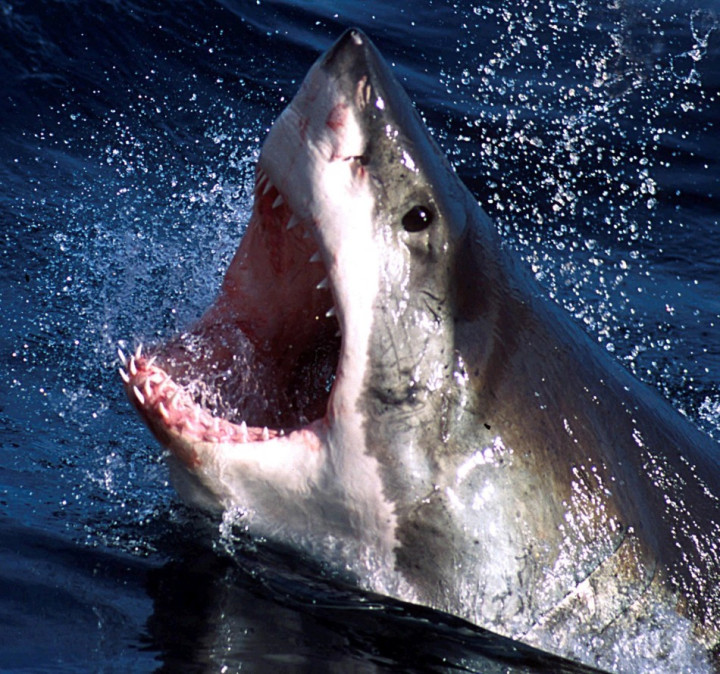 A long distance swimmer was mauled by an enraged great white shark after it broke free from a fishing line.
The man, who has not been named by authorities, was hospitalized with wounds to his chest and stomach in the attack off southern California's Manhattan Beach.
He is believed to be in a stable condition.
The 10ft (three metre) long shark had previously been hooked by a man fishing off the Manhattan Beach Pier, who had spent 30 minutes trying to reel it in before the line broke.
Los Angeles County Fire Department said that about 40 minutes later the shark struck, attacking the man who was part of a group of long distance swimmers training about 300 yards (270m) from the pier.
Surfer Casey Fenwick said that he had tried to get the attention of lifeguards, but they did not see the commotion in the water.
"There was blood everywhere and I realized that something had gotten him," Fenwick told The New York Daily News. "He was screaming the whole time and I understand why."
Reports state that the man was screaming in agony, and surfers and swimmers shouted "shark" as they stampeded back to shore.
Fenwick said that he saw the shark lurking near the injured man, but did not immediately realise that he had been attacked by the creature.
"I was just worried about getting this guy in and on the board so somebody could help," Fenwick added.
He put the man on his board, and took him to the beach, where lifeguards rushed to help him and emergency services were alerted.
Los Angeles County Sheriffs dispatched a helicopter, which located the shark about 200 yards from shore moments later.
Lifeguards in boats herded the shark back to sea, after a mile of beach and the pier were closed to the public.
Fatal shark attacks in California are rare, with only 13 recorded since 1950. Experts say that sharks generally avoid people, though they will sometimes target swimmers.