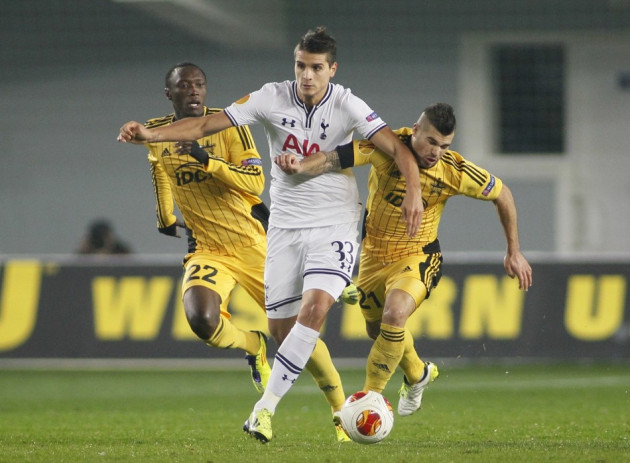 Former Tottenham Hotspur winger Chris Waddle says Erik Lamela's troubles during the early months of his career at White Hart Lane can be attributed to a struggle to adapt to the pace of English football.
Since joining from Roma at the end of the summer transfer window, Lamela has made 10 appearances in all competitions but has failed to make a sufficient impact.
The 21-year-old was expected to ably fill the void left by Gareth Bale but a combination of Andre Villas-Boas urging caution over the Argentine and his own poor showing mean his early Tottenham career has fallen flat.
Waddle, who himself battled with acclimatising to new surroundings after swapping Tottenham for Marseille in 1989, sympathises with Lamela's position.
"I think he has had problems adapting to the language, culture and speed of the game over here," Waddle told the Evening Standard. "You can see he has a lot of ability and he's still only young.
"I don't think he realises how fast the game is in comparison to when he was in Italy, and he needs to adjust. But he has a great left foot and has bags of ability so he should be fine.
"It took me three months to get used to life in Marseille and it was really tough. It can get you down and it's very hard being away from home - there's a lot more to it than just playing football on a Saturday afternoon."
Lamela was one of seven new signings made by Tottenham in the summer to offset the sale of Bale to Real Madrid, but with three defeats from their opening 11 Premier League games, and just nine goals, the club's cutting edge has deserted them.
But despite an uncertain start, Tottenham lie just five points behind leaders Arsenal amid the most open race for the title since the division's inception.
Waddle feels Spurs are among seven teams in contention for the title which they haven't won since 1961.
"To be honest, I don't feel there any favourites this season," added Waddle.
"In the past, the top three have been Manchester United, Manchester City and Chelsea, but those three have shown they are beatable this year and the gap has got smaller.
"Arsenal are top so they need to be considered and Liverpool, Everton and of course Spurs can beat any of those three on their day. So it is hard to say if they could win when there are so many teams, but I believe Spurs can challenge the top three for the title if they can score a few more and go on a run."