Christian Eriksen's perspective move to Liverpool has been endorsed by Denmark manager Morton Olsen who believes the 21 year old is ready for a move to a big club.
Eriksen is on the brink of leaving Ajax this year after turning down a new contract, with the Dane expressing an interest in joining either Borussia Dortmund and Liverpool.
And Champions League runners-up Dortmund and Premier League side Liverpool have been boosted in their attempts to seduce Eriksen, with Olsen admitting his star turn is ready to leave Ajax.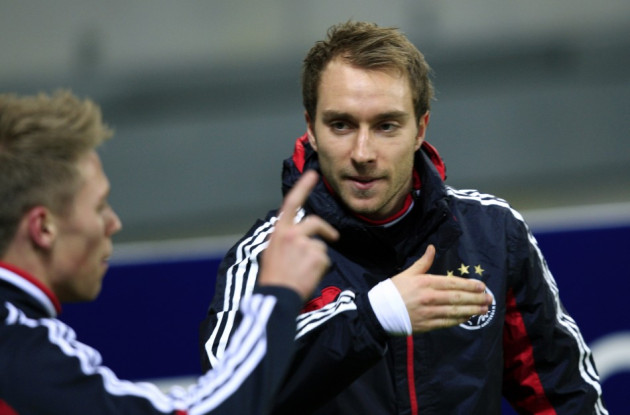 "This is the right time for him to go," Olsen told Danish newspaper Ekstra Bladet. "There are many players who moved to a top club too early, but Christian is really ready.
"He played great against Borussia Dortmund, Manchester City, PSV and Feyenoord this season, so maybe that's where Dortmund's interest stems from."
Despite admitting that talks had begun with Dortmund regarding a move to the Bundesliga side, Eriksen has since revealed that Liverpool remain an option.
"Dortmund is one of the options that will be really good for me," Eriksen told sporten.dk. "But it is not the only option, but it is certainly a possibility.
"If there is something exciting, I would like to go but if not then I don't mind staying.
"I have read and Liverpool is definitely an option. It is also one of the clubs you'll weight higher than Amsterdam, and it's a different league and a different calibre.
"It sounds very exciting, but we have to look at it if there is something I do not know if there is anything specific, and I've even talked to Daniel [Agger] about it."
After impressive performances in Europe against the likes of Manchester City this season, Eriksen's burgeoning talent appears ready for one of the continents' highest draws, with the primary contenders Dortmund and Liverpool seemingly neck and neck in the race for the midfielder.
Mario Goetze's departure to Bayern Munich has forced Jugen Klopp into a rebuilding job while The Reds are keen to find a long-term replacement for captain Steven Gerrard.