A British man has been interviewed by French Police after an Eritrean migrant died when he was struck by a car near Calais. Officers have said that the man was part of a group of migrants trying to put obstacles in the road in order to slow a vehicle down and climb aboard.
The incident took place at Junction 47 of the A16 motorway, which starts on the Belgian border and runs near the so-called 'Calais Jungle' camp, on Sunday evening (9 October). The camp is home to thousands of people who have fled war zones across the world and are seeking access to the UK.
Another migrant, reported to be the man's wife, was slightly hurt. The driver has not been named by authorities – who have warned drivers about the upsurge in similar attempts by migrants during the summer of 2016.
Police are said to be investigating the incident as an accident rather than a criminal offence.
The Mirror reported that the man was "fearing for his life" when he was confronted by a gang trying to stop traffic with stones and branches. "An Eritrean migrant was knocked over on Sunday at around 8.30pm," a source told the newspaper.
"He was rushed to hospital in Calais but later died from his injuries at around 11pm local time. The man's wife, who is in her 30s, was also treated in hospital, but her condition is not life-threatening."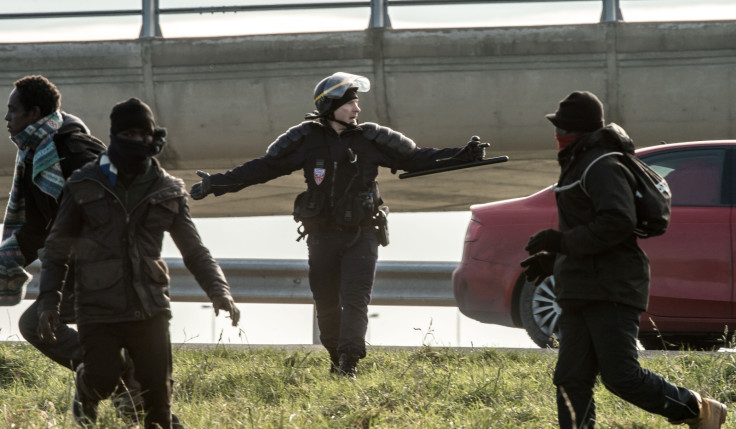 The unnamed driver was said to have turned himself into French police based at the Channel Tunnel terminal with the dead man's wife expected to give evidence once she is discharged from hospital.
It is believed to be the 14th death this year on the roads near the port town. It is also estimated that there are more than 10,000 migrants in the Calais and Dunkirk area, with the issue becoming a sticking point between the British and French governments since the UK's decision to leave the EU in the 23 June referendum.
On Monday (10 October), the French Government said that the UK had a "moral duty" to take in hundreds of migrant children from northern France.
"I am solemnly asking Britain to assume its moral duty," interior minister Bernard Cazeneuve told RTL radio, ahead of a visit to the UK to meet Home Secretary Amber Rudd.
"There are several hundred unaccompanied minors in Calais who have family in Britain. We are in the process of drawing up a precise list and the British need to live up to their responsibilities."