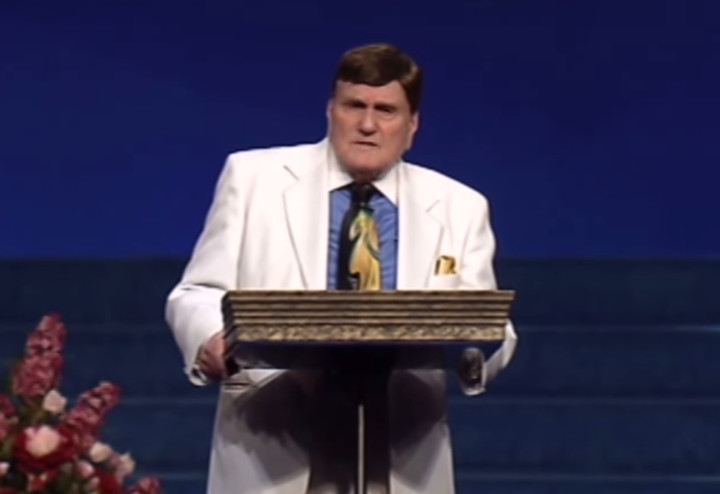 A US televangelist has been accused of running an over-controlling cult-like operation that brainwashed its members into undergoing abortions and vasectomies so they wouldn't have children who might potentially take out of their parents' donations to church.
Ohio's Akron Beacon Journal published a series of articles stemming from a two-month investigation into the dealings of Grace Cathedral's leader Ernest Angley.
The paper interviewed more than 20 former members of the church headquartered in the Akron suburb of Cuyahoga Falls, some of whom described the 93-year-old evangelist as a "monster" who turned a blind eye to allegations of sex abuses amid his flock.
A Grace Cathedral spokeswoman dismissed the reports as "lies" and said Angley was not interested in responding to them.
Several people who quit the church said they or their spouses were pressured into interrupting pregnancies or undergoing medical treatment to avoid them.
"None of us have kids because he makes all the men get fixed," Becky Roadman, 32, who left Grace Cathedral last year, told the Akron Beacon Journal. "You're not allowed to have babies there."
Some parishioners claimed the pastor personally examined their genitals before and after the surgeries.
A woman said she was made to believe that abortion was her only option after she got pregnant.
"He [Angley] doesn't want people to have kids because it would take their time and money away from [the church]", Greg Mulkey, a former church member, said.
In an interview with the newspaper Angley denied controlling every aspect of church members' lives but said he gives advice when requested.
He admitted suggesting vasectomies, adding that he believes it's a "bad time" for couples to have children because of the dangers in the world.
"I wouldn't want to be brought into this world now," he said.
Another former parishioner said Angley asked him to keep quiet after he told the pastor he had been sexually abused when a teenager.
"He asked if I had told anybody. I said no. He said, 'Let's keep it a secret. This is the way we need to handle it because God's mercy is great'," said Shane McCabe.
The evangelist told the Akron Beacon Journal it wasn't "his place" to report such accusations to police.
Angley started his ministry in 1950 and thanks to his television broadcasts is a well-known figure in the US. Late comedian Robin Williams used to caricature the pastor in some of his stand-up acts.
The pastor, who claims he can heal people of afflictions, flies on mission trips in the US and abroad aboard a privately owned Boeing 747 that a former Angley employee estimated was purchased for $26m (£16m). Angley maintains that all donations to the church go toward its mission.
Cuyahoga Falls Police said no investigation has been opened into the pastor and his church and that they have received no complaints.