Ethiopia: Thousands left displaced in Somali region due to severe drought
Thousands have been displaced in makeshift camps in Ethiopia after drought affected millions of people across the country. State officials say that the Somali areas of the country have been among the worst affected, with 67,500 people displaced in that region alone.
It is thought 10.1 million people have been affected by the drought across the country, which has been caused by the El Niño weather phenomenon. Around 7,500 people have fled to the region of Fedeto in the last six months.
Saido Ahmed Keyat, from Ethiopia's Somali Region, said: "I had 200 sheep and goats, seven donkeys, eight camels and 15 cattle when the drought started. We wandered through the desert from one village to another for three months from Lababdwin to reach [the Fedeto region]. All of my animals died one by one within this time and I now have nothing except two donkeys".
State officials say that 24 of the country's 68 districts have been flagged as 'hotspots'. The Sitti Zone in Fedeto has been hit particularly badly, with 22 makeshift sites set up to deal with those left internally displaced by the drought that started in June 2015.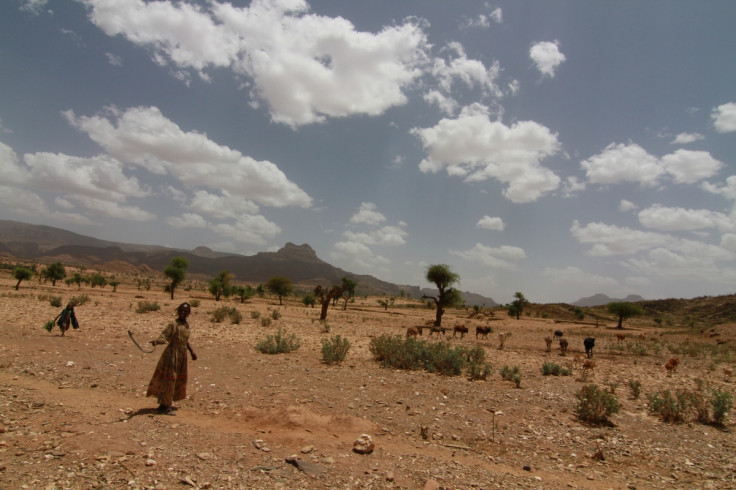 The head of Save the Children in Ethiopia says the the number of people affected by drought in the country is "larger than 1984". It is estimated that around 400,000 people died in the country's drought of 1983-1985.
John Graham, the charity's Country Director, said: "I have been in Ethiopia for 19 years and I have seen quite a few droughts. This is, by far, the worst response from the international community I have ever seen. There are a lot of other competing crises out there, certainly Syria and the migration crisis, that take a lot of attention. So we haven't seen attention paid to Ethiopia, even though the number of people affected is far larger than any previous drought in Ethiopia and far larger than in 1984."
El Niño has led to severe drought across many parts of Africa, with Zimbabwe, Madagascar and Malawi among the worst-hit places. It is thought around 40 million people have been affected on the continent.
"This drought is the most severe drought I have ever seen in my life. I have never seen such a huge number of internally displaced people before," said the administrator of Fedeto, Dahir Omar Hosh. He added, "You can say that it is like having the impact of two very severe droughts at the same time".
El Niño occurs every two to seven years and can last from nine months to two years. Countries where people mostly rely on agricultural practices for their survival suffer greatly due to the warming of the ocean.
© Copyright IBTimes 2023. All rights reserved.