European Union leaders are planning on thwarting Britain's hopes for a bespoke sectoral deal as part of plans to "undermine" Theresa May and force her into pushing for a softer Brexit deal when the next stage of negotiations begin in April, according to reports.
The plan, reportedly being masterminded by Donald Tusk, president of the European Council, is said to give the UK the chance to remain in the EU instead of continuing to head down the "hard road" of negotiations.
EU leaders are hoping to exploit the split in the prime minster's party between those who are hoping for a hard or soft Brexit by insisting that if Britain pulls out of Europe's customs union and single market, the bloc will only offer a limited free trade agreement as part of the Brexit deal, reports The Times.
It is believed the EU does not think May has sufficient backing from her own MPs to pull out of a customs deal and may be forced into a U-turn to help with negotiations.
Elsewhere, Tusk is said to be co-ordinating a strategy to "forgive and forget" if Britain changes its mind about leaving the EU while also making any deal implemented by the government following negotiations appear underwhelming.
A European diplomat told the Times: "The warm messaging that the door is open for Britain to stay in the EU will continue. In contrast, negotiations are going to show what a hard road lies ahead for Britain."
The reports arrived after the CBI, Britain's main business group, urged that Britain remain in a customs union with the EU after 29 March 2019 when Brexit officially occurs.
The idea was dismissed by foreign secretary Boris Johnson, who insisted the UK was still on course to leave the single market and customs union.
He said: "The prime minister was clear in her Florence speech we are leaving. Staying in the customs union means effectively staying in the EU: the EU is a customs union."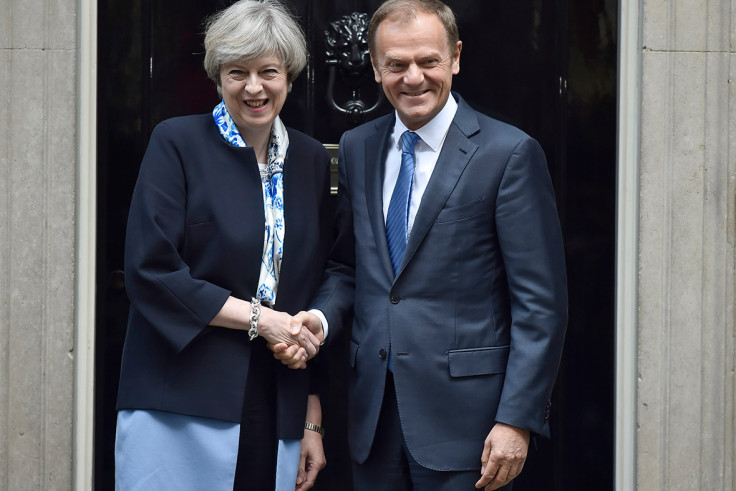 Speaking at the University of Warwick, Carolyn Fairbairn, director-general of the CBI, said: "The idea behind a customs union is simple: a single set of tariffs for goods imported from outside the EU, enabling tariff free trade within it.
"It brings no obligations over freedom of movement, or payment and removes some of the heaviest trade barriers.
"Importantly, it would go a long way towards solving the border problem in Ireland.
"Some have suggested that the Irish border be kept seamless by establishing a customs border in the Irish sea - but that just moves the issue.
"The solution has been deferred - but it can't be forever. We recognise this isn't easy, and of course it's worth looking at the alternatives.
"Yet unless and until we find one that works, a customs union is part of a practical, real-world answer."