EU migrant crisis: Dozens of decomposing refugee bodies found in truck on Austria-Hungary border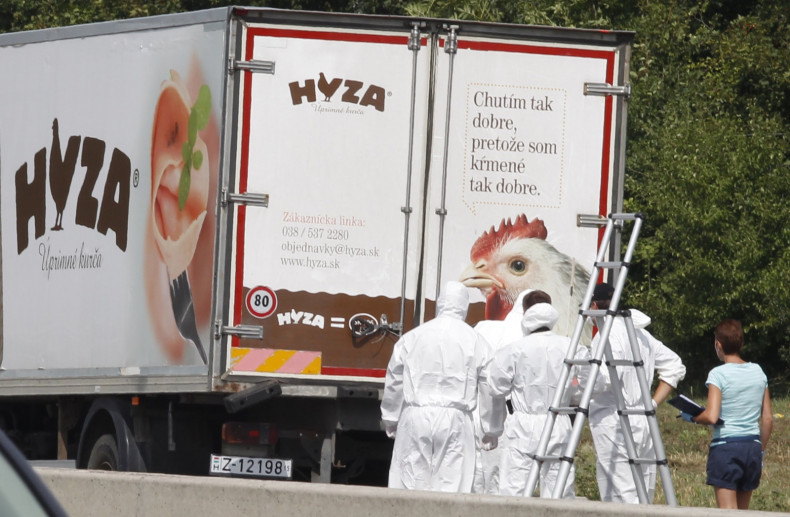 Dozens of dead refugees have been found in the back of a lorry in Austria, in another incident in a spate tragedies involving desperate migrants embarking on the perilous journey to Europe in search of a better life.
The vehicle, belonging to a food company, was parked on the hard shoulder of a highway near the eastern town of Parndorf, not far from the border with Hungary and Slovakia.
"Unfortunately there are many dead people in there," an interior ministry spokesman told Reuters.
The truck, with Hungarian license plates, was spotted by staff at a nearby service station who became suspicious when it had not moved for a long time, Krone newspaper reported. Police were called to the scene and made the grim discovery.
Authorities said that according to an early assessment the lorry had become a 'grave' for between 20 and 50 people, believed to have died of asphyxiation.
A police official told broadcaster ORF the refugees had been dead for some time, as some corpses appeared to be partially decomposed.
A manhunt has been launched for the driver. "These people belong behind bars," Austria's Interior Minister Johanna Mikl-Leitner said, referring to human smugglers at a press conference in Eisenstadt. "Today is a dark day".
It is not clear where the truck was headed or came from but tens of thousands asylum-seekers fleeing war and poverty in the Middle East and Africa have travelled from Greece to Macedonia and then on to Serbia and Hungary, hoping to reach Germany and other northern EU states in recent months.
Hundreds of thousands of refugees have reached the borders of the 28-nation bloc this year, and at least 2,000 are believed to have died trying, most drowning while attempting to cross the Mediterranean on rickety boats.
"Never before in history have so many people fled their homes to escape war, violence and persecution," said EU Enlargement Commissioner Johannes Hahn. "And given the large number of unresolved conflicts in our neighborhood, the stream of refugees seeking protection in Europe will not abate in the foreseeable future, I am afraid."
"We're going to have a quota settlement approach, and in light of recent developments I believe all 28-member states are now ready to accept and approve that," he told reporters at a Western Balkans summit.