Britain and the European Union have been urged by the UN High Commissioner for Refugees to develop a common mass relocation plan for 200,000 refugees. Antonio Guterres' call comes ahead of a meeting later today (4 September) of EU foreign ministers to discuss the continent's refugee crisis, after a photo of Syrian toddler Aylan Kurdi, whose lifeless body was found face down in the surf on a Turkish beach on Wednesday, grasped the world's attention.
"People who are found to have a valid protection claim ... must then benefit from a mass relocation programme, with the mandatory participation of all EU member states," Guterres said in a statement. "A very preliminary estimate would indicate a potential need to increase relocation opportunities to as many as 200,000 places."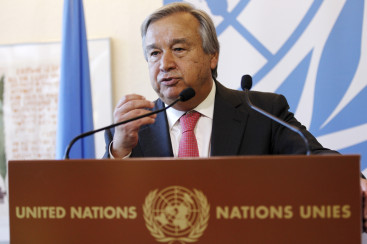 The statement continued: "While the EU must be ready, with the consent and support of the concerned governments (Greece, Italy and Hungary) to put in place immediate and adequate emergency reception, assistance and registration capacity, relocation programmes should be available for refugees found to be in need of international protection and can benefit from legal migration opportunities.
"European countries – as well as governments in other regions – must make some fundamental changes to allow for larger resettlement and humanitarian admission quotas, expanded visa and sponsorship programmes, scholarships and other ways to enter Europe legally. Crucially, family reunification has to become a real, accessible option for many more people than is currently the case."
Guterres' appeal comes as France and Germany called for binding EU quotas to share the burden of the influx of migrants and refugees, which has hit transit countries in south-eastern and central Europe the hardest.
A European source, meanwhile, told AFP that European Commission President Jean-Claude Juncker would next week unveil a plan for the relocation of at least 120,000 more refugees.
More than 347,000 people have risked their lives to cross the Mediterranean Sea so far this year –and more than 2,770 have not survived the dangerous crossing.