An exit from the European Union would represent "an abject and self-imposed humiliation" for Britain, Prime Minister David Cameron has said.
Writing in the Sunday Telegraph, Cameron said the UK faces an "existential choice" in the 23 June referendum and warned that there will be "no turning back" if the Leave campaign succeeds.
He reiterated views that a Brexit would damage the economy and diminish the UK's influence on the global stage, leading the country down a path of divisiveness and intolerance.
The prime minister's plea comes three days after the murder of Labour MP Jo Cox – an advocate of the Remain campaign – in Birstall, West Yorkshire.
However, Justice Secretary Michael Gove denied that a Brexit will plunge the UK into recession and said that voting to leave the EU would be a "vote for democracy".
A YouGov poll for the Sunday Times newspaper, published on 18 June, showed the Remain camp clawing back lost ground to hold a narrow 44%-43% lead over the Leave camp.
'Irreversible decision'
Cameron said the EU referendum will go a long way towards determining what kind of country Britain evolves into in the future.
"Are we going to choose Nigel Farage's vision – one which takes Britain backwards; divides rather than unites; and questions the motives of anyone who takes a different view?" he asked.
"Or will we, instead, choose the tolerant, liberal Britain; a country that doesn't blame its problems on other groups of people; one that doesn't pine for the past, but looks to the future with hope, optimism and confidence?"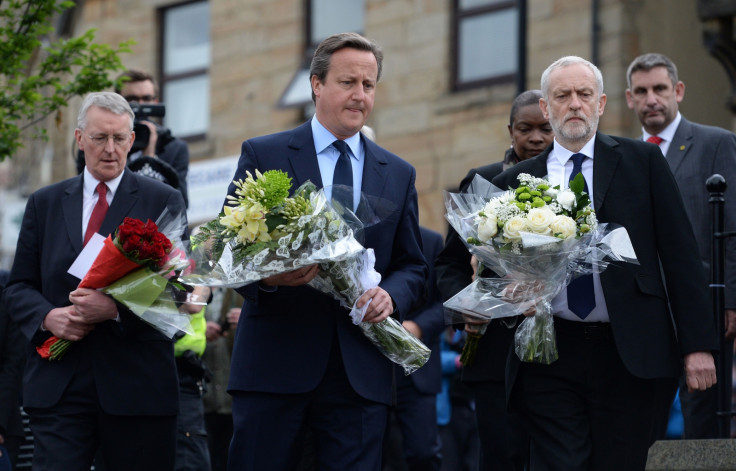 The prime minister challenged the Leave campaigners to provide a single credible voice to support their assertion that the UK will be better-off economically outside the EU.
"It is simply common sense that if we left, trade would be damaged, and investment in Britain would suffer because businesses would no longer be able to access the EU from Britain in the same way," Cameron wrote.
"Our economy would therefore be smaller."
He added: "There is no turning back if we leave. If we choose to go out of the EU, we will go out – with all of the consequences that will have for everyone in Britain.
"And if we were to leave and it quickly turned out to be a big mistake, there wouldn't be a way of changing our minds and having another go. This is it."
Misplaced fears
But speaking to the Sunday Telegraph, Gove insisted that fears of a Brexit-induced recession were exaggerated.
"There are economic risks if we leave, economic risks if we remain. I don't think there will be a recession as a result of a vote to leave," the justice secretary stated.
"But at some point in the future, it may be the case that global economic factors cause problems.
"My argument is that whatever happens in the future, an independent Britain will be better able to cope with those strains," he added.