More than 80 British-Indian business leaders have signed a letter outlining the benefits of the UK's membership in the European Union. The letter was organised by the "British Indians for IN" group, a cross-party campaign of parliamentarians seeking to keep Britain in the EU when the referendum takes place on 23 June.
The letter emphasised that despite arguments made by the Leave campaign that a Brexit would increase trade with countries such as India, they did not believe this would be the case. Instead, the signatories noted that Britain is a strong economic partner with India because of their membership in the EU.
MP Alok Sharma, coordinator of the campaign and the Prime Minister's Infrastructure Envoy to India, said: "Brexit will have the double whammy effect of not only hitting UK businesses but also impacting on inward investment.
"Indian companies have informed me that some decisions on future investments into the UK have been deferred until the outcome of the referendum is known and, if we vote to leave the EU, there is a big risk that Indian companies will think twice before investing in the UK."
The letter - signed by British-Indian business leaders - stressed that one of the key reasons why Britain is an attractive destination for inward overseas investment is because it is seen as a gateway to the European Single market of 500 million people. This view was echoed by Indian Prime Minister Narendra Modi, who said last week that the UK is India's "gateway to Europe" and offered his support for a "strong and united Europe".
The latest report from the British government on India, published in June 2015, noted that it was the third largest source of foreign direct investment for the UK. The Director of the Federation of Indian Chambers of Commerce and Industry, Pratik Dattani, acknowledged the negative effect a Brexit would have on FDI.
Dattani said: "The UK is the most important market in Europe for Indian FDI, and Indian companies have created more jobs in Britain than any other Asian country in 2015. A Brexit could cause uncertainty for FDI, immigration and trade relations between the two strong partners."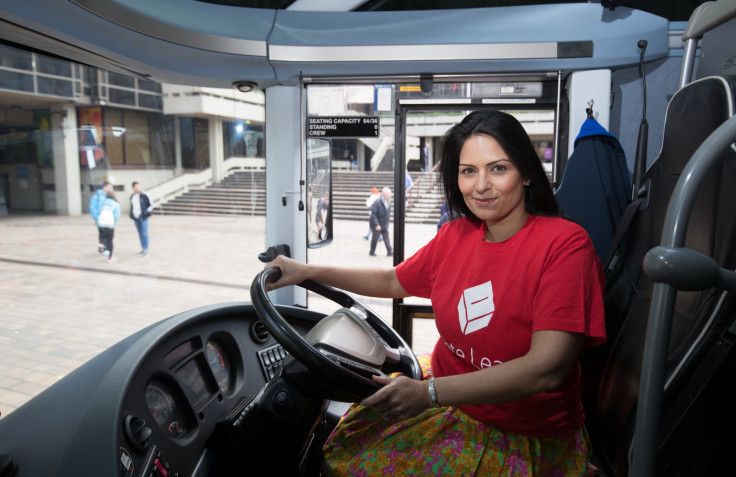 In contrast with the concerns aired by a number of British-Indians, UK Employment Minister and David Cameron's Indian diaspora champion said that a Brexit would "boost UK-India relations". Priti Patel believes that trading links with India would improve when the UK was "not held back by the vested self-interests of the EU".
However, Commonwealth Minister Hugo Swire hit out at Patel and others on 20 May, insisting that India would not benefit if the UK leaves the EU. He said: "There has been a creeping narrative promoted by the Brexiteers that somehow the Commonwealth can replace the EU as the UK's trading bloc partner. My argument is that it is an erroneous leap of faith to take. This is all based on imagination, rather than reality."
The signatories to the letter included:
Mr Sumit Agarwal, Founder & Managing Partner, DNS Associates Ltd

Mr Vivek Agarwal, Founder & Chief Executive Officer, Strand of Silk Ltd

Mr JP Agrawal, Managing Director and Founder, Derivatives Value Advisors

Mr Rajesh Agrawal, Founder & Chairman, RationalFX

Mr Sats Ahluwalia, Group Managing Director, Mulberry Care Group

Mrs Pavan Ahluwalia, Chief Executive Officer, Pavan Henna Artist Limited

Mr Neeraj Arora, Executive Vice President and Head of International Business, Sony Entertainment Television (supporting in a personal capacity)

Mr Suneel Bakhshi, Chief Executive Officer, LCH (supporting in a personal capacity)

Mr Amit Bhatia, Chairman, Hope Construction Materials

Mr Raj Bhatt, Vice Chairman & Chief Executive Officer, Elara Capital PLC

Lord Karan Bilimoria CBE DL, (supporting in a personal capacity)

Mr Jigs Chana, Director, Cameo Properties Development Ltd

Mr Prem Chander, Chief Executive Officer, London Energy Trading Ltd

Mr Nitin Dahad, Founder, Techspark Limited

Mr Pratik Dattani, Director – UK, Federation of Indian Chambers of Commerce and Industry

Mr Sudhir Dhanani, Director, Clearconsult Management Limited

Mr Uday Dholakia OBE, Senior Partner, Global Consulting UK Ltd

Ms Rupa Ganatra, Founding Partner, Millennial 20/20 Ltd

Mr Ravi Gidar, Director, Gold Care Homes

Mr Ram Gidoomal CBE, Chairman, Dulas Ltd

Mr Harminder Gill, Managing Director, Gillcrest Homes

Mr, Vijay Goel, Partner, Singhania & Co

Mr Raj Gupta, Director, Heathfield House Nursing Homes Ltd

Mr Arif Hussein, Director, Homebound UK Ltd (t/a Brockley Consulting)

Mr Jayesh Jotangia, Barrister at 33 Bedford Row

Mr Surjit Jutla, Director, Euro-Link Property Management Services Ltd

Miss Bhavini Kalaria, Managing Director, The London Law Practice Ltd

Dr Sanjeev Kanoria, Chairman, Advinia Health Care Limited

Dr Mohan Kaul, Vice Chairman, Indo-UK Institute of Health

Mr Sid Khemka, Founder & Chief Executive Officer, Konnect Digital Limited

Ms Mani Kohli, Founder/Designer, Khubsoorat UK Ltd

Mr Saran Kohli, Director, Mani Kohli's UK Ltd

Ms Preema Kohli-Verma, Chief Executive Officer, Preema International Limited

Mr Salil Kumar, Director, Asset India Ltd

Mr Anil Kumar, Chairman, Ransat Group

Mr Manoj Ladwa, Chief Executive, India Inc Ltd

Professor Kartar Lalvani OBE, Chairman, Vitabiotics Ltd

Dr Gurmit Mahay, GP, Poplars Medical Practice

Mr Andeep Mangal, Director, Thapers Chartered Accountants

Mr Tony Matharu, Managing Director, Grange Hotels (supporting in a personal capacity)

Mr Sukhdev Mattu, Chief Executive Officer, Chartwell Private Hospital

Dr Ravi Mehrotra CBE, Executive Chairman, Foresight Ltd

Mr Rahul Mehta, Founder, ViCos Ltd

Mr Ketan Mehta, Managing Director, Necessity Supplies Ltd

Mr Vish Mehta, Group Director, MiCasa Group

Mr Anirudh Misra, Director, International Metallurgical Resources Ltd

Mr Jagdish Nagrecha, Director, Crane International Limited

Mr Rajay Naik, Chief Executive Officer - Europe, Keypath Education

Mr Manoj Nair, Founder and Chief Executive Officer, Redgirraffe.com

Mr Ashok Rabheru CVO DL, Chairman, Genisys Group

Mr Ravi Pandey, Managing Director, Rolta UK Ltd

Ms Chanda Pandya, Brand Director, Rossana UK Ltd

Ms Parita Patel, Director, Uniflora Limited

Mr Guppy Patel, Director, Xoocafe Limited

Mr Ashok Patel, Director, TNV Construction Ltd

Mr Hiren Patel, Project Architect, Black Elephant ID Studio Ltd

Mr Vikkas Puri, Director, Sunrise Developers Limited

Mr Thembalath Ramachandran, Chairman & Managing Director, Bristol Laboratories Ltd

Mr Arun Raman, Chief Executive Officer, Helm Natural Resources Ltd

Lord Diljit Rana MBE, Managing Director, Andras House Ltd

Mr Rami Ranger CBE, Chairman, Sunmark Ltd

Mr Yoganathan Ratheesan, Chairman & Chief Executive Officer, Lebara Group

Mr Abhishek Sachdev, Managing Director, Vedanta Hedging Limited

Mr Paul Sagoo, Founder, Asian Awards Ltd

Mr Girish Sanger, Director, Mastcraft Ltd

Mr Nimesh Sanghrajka, Director, Mantra Consultancy & Capital Limited

Mr Gurvinder Sethi, Director, Flavors of India Ltd

Mr Pravin Shah, Director, Levershire Limited

Mr Shamir Shah, Director, Icone-International Ltd

Mr Pradip Sharma, Pradicorp UK Ltd

Ms Kavita Sharma, Chief Executive, Indo British Business Forum

Mr Anil Sharma, Chief Executive Officer, Kinedexe UK Ltd

Ms Sangeeta Sidhu-Robb, Chief Executive Officer & Founder, Nosh Detox Delivery Ltd

Mr Amarjit Singh, Chief Executive Officer, India Business Consultancy Limited (t/a The India Business Group)

Mr Ajaya Sodha, Director, Arma Properties UK Ltd

Mr Jay Tahasildar, Director, Mercurius IT Limited

Mr Ranjit Thaker, Director, Thaker Acquisitions Ltd

Mr Subhash Thakrar, Partner, CBW Partners

Mr Manish Tiwari, Managing Director, Here&Now365 Ltd

Mr Madhava Turumella, Chief Executive Officer, Cove Venture Ltd

Mr Danesh Varma, Director, Global Preservation Strategies Limited