EU referendum: Former NATO and US defence chiefs warn UK 'don't vote for Brexit'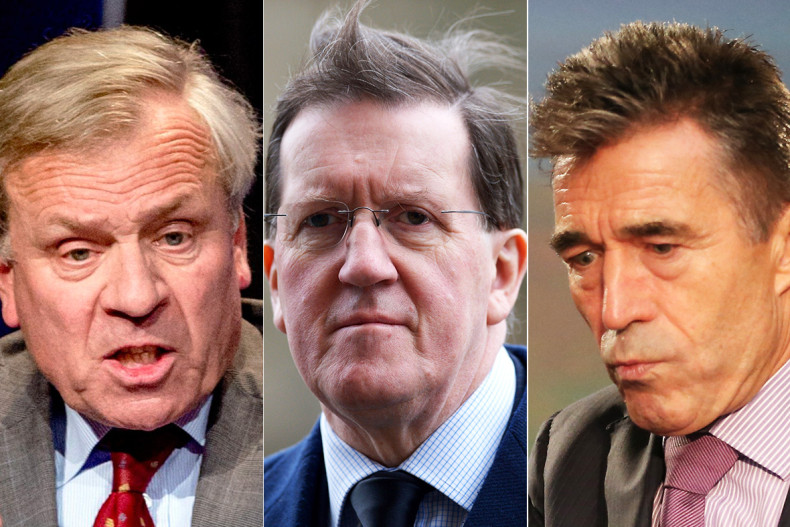 Five former NATO chiefs and 13 former US secretaries of state and defence are among an increasing roll call of those who warn that the UK leaving the European Union would help the West's enemies and mean a diminished role for Britain on the global stage.
The crop of NATO Secretary-Generals say Britain leaving the EU would be "very troubling" and a boost to the enemies of the West. They added that Brussels works closely with NATO and that together, the organisations work intrinsically to help "stave off instability".
Lord George Robertson, Jaap De Hoop Scheffer and Anders Fogh Rasmussen were among signatories of a letter addressed to the Telegraph, which said: "Brexit would undoubtedly lead to a loss of British influence, undermine NATO and give succour to the West's enemies just when we need to stand shoulder to shoulder across the Euro-Atlantic community against common threats, including on our doorstep."
To add weight to the Remain campaign, foreign and defence chiefs from every White House administration warned that the UK cannot bank on its "special relationship" with the US to help it get back any influence lost by leaving the EU.
Some 13 former US secretaries of state and defence, as well as national security advisers, said in a recent letter to The Times that "Europe would be dangerously weakened" if the UK were to leave the EU.
Signatories included the US Reagan-era Secretary of State, George Shultz, plus, ex- CIA chief Leon Panetta who said: "The special relationship between our countries would not compensate for the loss of influence and clout that the UK would suffer if it was no longer part of the EU, a union of 28 nations with 500 million inhabitants, which is the largest economic bloc in the world."
The debate over Britain's membership has taken a decidedly military turn after David Cameron invoked Winston Churchill in a speech delivered on Monday (9 May) and warned that Brexit could lead to war on the continent.
This was rejected by Boris Johnson, who also used a speech on Monday (9 May) to say that he doubts whether Cameron "can seriously believe that leaving the EU would trigger war on the European continent".
Johnson was under fire for saying that the European Union played a role in allowing the conflict in Ukraine to happen and the annexation of Crimea by Russia. However the former London mayor dismissed the charge that he was a "Putin apologist". However head of the Commons foreign affairs committee, Crispin Blunt came out in support of leaving the EU as he said that British "neuralgia" stunted making good EU defence policy.
Meanwhile, chancellor George Osborne said there could be thousands of job losses in financial services after Treasury figures showed 100,000 such posts are linked to EU exports, the Financial Times reported.