EU referendum: Full list of peers who attempted to block 16-year-olds from voting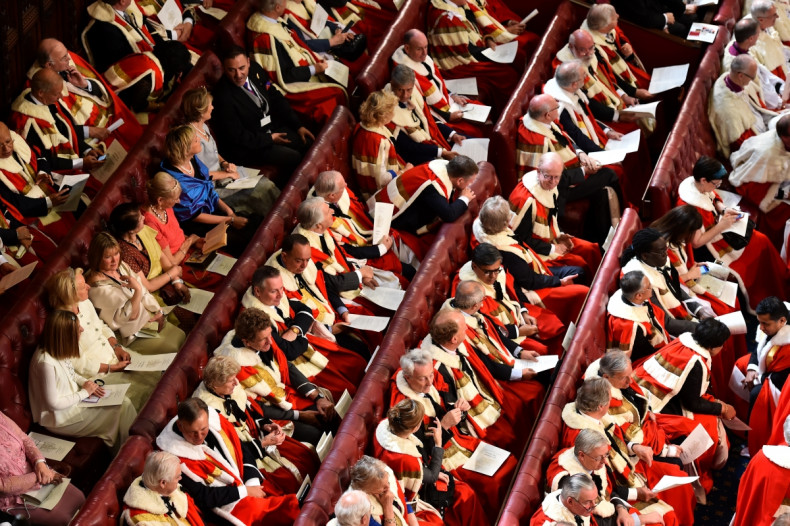 The Conservative government was dealt an embarrassing blow once again when peers backed calls to give 16- and 17-year-olds the vote at the forthcoming EU referendum, which will be held in 2016 or 2017. David Cameron's administration was defeated in the upper chamber by 293 to 211 on extending the franchise to the teenagers.
The 18 November result was welcomed by the SNP, the Liberal Democrats and Labour after the parties called for such an amendment to the EU Referendum Bill. Liberal Democrat leader Tim Farron even hailed the decision as a historic result for his party, even though Labour peer Baroness Morgan of Ely tabled the amendment.
Farron said: "The Liberal Democrats have been fighting for this for decades, and we are winning the argument. This is a victory for democracy, we will give over a million people a voice on their future. In Scotland 16- and 17-year-olds proved that they not only have the knowledge but also the enthusiasm to have a say on their own future. Taking that away now would do them an injustice."
Ukip, which has three peers in the House of Lords, criticised the decision and accused the upper chamber of displaying "arrogance." Joe Jenkins, the chairman of Ukip's youth wing, said: "A House packed full of superannuated former politicians, with over 100 Liberal Democratic peers, and with clearly no mandate to make such decisions has decided that they need to load the electoral dice. Young people in Britain are no fools, but those below the age of 18, do not have to pay taxes, but are subject to huge amounts of pro-EU propaganda in educational establishments."
The decision comes after George Osborne and Cameron were defeated in the House of Lords over their plans to reform tax credits. The Chancellor is expected to unveil his revised reforms in his Autumn Statement on 25 November.
Below you can view the full list of peers who voted against Baroness Morgan of Ely's amendment and attempted to block 16- and 17-year-olds from having a vote in the EU referendum.
Conservatives
Ahmad of Wimbledon, Lord
Altmann, Baroness
Anelay of St Johns, Baroness
Arbuthnot of Edrom, Lord
Arran, Earl
Ashton of Hyde, Lord
Astor, Viscount
Attlee, Earl
Baker of Dorking, Lord
Balfe, Lord
Bates, Lord
Bell, Lord
Black of Brentwood, Lord
Blackwell, Lord
Blencathra, Lord
Borwick, Lord
Bottomley of Nettlestone, Baroness
Bourne of Aberystwyth, Lord
Bowness, Lord
Brabazon of Tara, Lord
Brady, Baroness
Bridgeman, Viscount
Bridges of Headley, Lord
Brougham and Vaux, Lord
Browning, Baroness
Buscombe, Baroness
Byford, Baroness
Callanan, Lord
Carrington of Fulham, Lord
Cathcart, Earl
Cavendish of Furness, Lord
Chalker of Wallasey, Baroness
Chisholm of Owlpen, Baroness
Colwyn, Lord
Cooper of Windrush, Lord
Cope of Berkeley, Lord
Cormack, Lord
Courtown, Earl
Crickhowell, Lord
Cumberlege, Baroness
De Mauley, Lord
Deighton, Lord
Denham, Lord
Dixon-Smith, Lord
Dunlop, Lord
Eaton, Baroness
Eccles of Moulton, Baroness
Eccles, Viscount
Elton, Lord
Evans of Bowes Park, Baroness
Farmer, Lord
Faulks, Lord
Feldman of Elstree, Lord
Fink, Lord
Fookes, Baroness
Forsyth of Drumlean, Lord
Framlingham, Lord
Freeman, Lord
Freud, Lord
Gardiner of Kimble, Lord
Gardner of Parkes, Baroness
Garel-Jones, Lord
Geddes, Lord
Gilbert of Panteg, Lord
Glentoran, Lord
Gold, Lord
Goodlad, Lord
Grade of Yarmouth, Lord
Griffiths of Fforestfach, Lord
Hailsham, Viscount
Hamilton of Epsom, Lord
Harris of Peckham, Lord
Hayward, Lord
Helic, Baroness
Henley, Lord
Higgins, Lord
Hodgson of Abinger, Baroness
Hodgson of Astley Abbotts, Lord
Holmes of Richmond, Lord
Hooper, Baroness
Horam, Lord
Howard of Lympne, Lord
Howard of Rising, Lord
Howe, Earl
Howell of Guildford, Lord
Inglewood, Lord
James of Blackheath, Lord
Jenkin of Kennington, Baroness
Keen of Elie, Lord
King of Bridgwater, Lord
Kirkham, Lord
Knight of Collingtree, Baroness
Lawson of Blaby, Lord
Leach of Fairford, Lord
Leigh of Hurley, Lord
Lexden, Lord
Lindsay, Earl
Lingfield, Lord
Livingston of Parkhead, Lord
Lupton, Lord
Lyell, Lord
Marland, Lord
Marlesford, Lord
McIntosh of Pickering , Baroness
Mobarik, Baroness
Moore of Lower Marsh, Lord
Morris of Bolton, Baroness
Naseby, Lord
Nash, Lord
Neville-Jones, Baroness
Neville-Rolfe, Baroness
Northbrook, Lord
Norton of Louth, Lord
O'Shaughnessy, Lord
O'Cathain, Baroness
O'Neill of Gatley, Lord
Oppenheim-Barnes, Baroness
Palumbo, Lord
Patten, Lord
Perry of Southwark, Baroness
Pidding, Baroness
Plumb, Lord
Polak, Lord
Popat, Lord
Porter of Spalding, Lord
Redfern , Baroness
Ribeiro, Lord
Ridley, Viscount
Risby, Lord
Robathan, Lord
Rotherwick, Lord
Sanderson of Bowden, Lord
Scott of Bybrook, Baroness
Seccombe, Baroness
Selborne, Earl
Selkirk of Douglas, Lord
Selsdon, Lord
Shackleton of Belgravia, Baroness
Sharples, Baroness
Sheikh, Lord
Sherbourne of Didsbury, Lord
Shields, Baroness
Shinkwin, Lord
Shrewsbury, Earl
Skelmersdale, Lord
Smith of Hindhead, Lord
Spicer, Lord
Stedman-Scott, Baroness
Sterling of Plaistow, Lord
Stowell of Beeston, Baroness
Strathclyde, Lord
Stroud, Baroness
Suri, Lord
Swinfen, Lord
Tanlaw, Lord
Taylor of Holbeach, Lord
Trefgarne, Lord
Trenchard, Viscount
Trimble, Lord
True, Lord
Ullswater, Viscount
Verma, Baroness
Wakeham, Lord
Wasserman, Lord
Wei, Lord
Wheatcroft, Baroness
Whitby, Lord
Wilcox, Baroness
Williams of Trafford, Baroness
Wolfson of Aspley Guise, Lord
Young of Cookham, Lord
Younger of Leckie, Viscount
Crossbench
Aberdare, Lord
Alton of Liverpool, Lord
Craigavon, Viscount
Dear, Lord
Falkland, Viscount
Fellowes, Lord
Flather, Baroness
Green of Deddington, Lord
Greengross, Baroness
Hogg, Baroness
Kakkar, Lord
Kilclooney, Lord
Kinnoull, Earl
Listowel, Earl
Lytton, Earl
Masham of Ilton, Baroness
Northbourne, Lord
Pannick, Lord
Powell of Bayswater, Lord
Rana, Lord
Scott of Foscote, Lord
Sutherland of Houndwood, Lord
Thomas of Swynnerton, Lord
Thurlow, Lord
Trees, Lord
Trevethin and Oaksey, Lord
Wilson of Tillyorn, Lord
Wright of Richmond, Lord
Others
Browne of Belmont, Lord
Hay of Ballyore, Lord
Kalms, Lord
Maginnis of Drumglass, Lord
Pearson of Rannoch, Lord
Stevens of Ludgate, Lord
Stoddart of Swindon, Lord
Warner, Lord
Willoughby de Broke, Lord
Bishops
Labour