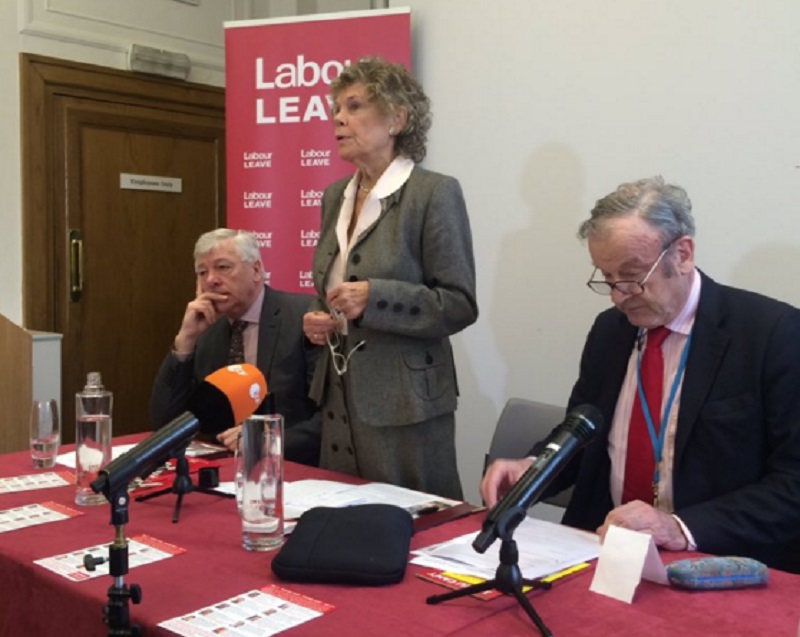 UPDATE: 18:14 GMT

John Mills, the founder and co-owner of Labour Leave, has denied reports that the Brexit group is breaking from Vote Leave. "A statement has been put out by someone called Richard Hillgrove purporting to be from Brendan Chilton, General Secretary of Labour Leave. That statement is fraudulent. Richard Hillgrove has no position in Labour Leave. Labour Leave is an independent campaign but corporately it supports Vote Leave," the Eurosceptic said.

---
Labour Leave are reportedly set to break their ties with Vote Leave and go independent after infighting among Eurosceptics prompted Kate Hoey to apparently quit the group. The move will be a significant blow to the organisation, which is competing with Leave.EU to win the official Brexit campaign nomination.
Hoey, a former minister, is Labour's most well-known Eurosceptic and recently spoke at a Grassroots Out (GO) event alongside Nigel Farage, Liam Fox and other prominent Brexit campaigners. She had apparently been "persuaded" to keep quiet about her resignation as co-chair of Labour Leave until an email from John Mills, a Labour donor and backer of Vote Leave, leaked.
The businessman accused Dominic Cummings, Vote Leave's campaigns director, of making "unnecessary" personal attacks and said the former special adviser had sent a "disparaging" text message about former Labour MP and Labour Leave campaigner Nigel Griffiths.
"The bottom line is that Labour Leave are fed up with the way they have been treated by Vote Leave," Mills said in the email seen by The Guardian.
He later added: "We have lost Kate [Hoey]. She is not prepared to be co-chair of Labour Leave any longer, but she has been persuaded not to announce this. Kelvin [Hopkins] may go as well but I am virtually certain that Graham [Stringer] will stay, so we will have at least one Labour MP as a figurehead."
But Labour Leave are now expected to announce that they will cut their ties with Vote Leave and act as an independent group, with Hoey rejoining the campaign. The latest development comes after Cummings, chief executive Matthew Elliot and company secretary Victoria Woodcock all stood down from Vote Leave's board.
The move came just days after Tory MP Steve Baker, co-chair of Conservatives for Britain, called for "material changes" within the group's leadership. The reshuffle also saw Mills demoted to deputy-chair of Vote Leave and former Conservative Chancellor Lord Nigel Lawson become the campaign's chairperson.
A Vote Leave spokesman said: "Vote Leave is a genuinely cross-party campaign and we value our Labour party MPs and supporters across the country." Dominic Cummings declined to comment.
Meanwhile, Leave.EU co-founder and Ukip donor Arron Banks took the opportunity to describe Elliot and Cummings as "two of the nastiest individuals I have ever had the misfortune to meet". The businessman also urged Conservative MPs to support the GO campaign, which is not vying for the Brexit nomination, and stressed that his Leave.EU is "running a positive campaign".
The letter to Tory parliamentarians came ahead of their colleagues David Davis, William Wragg, Tom Pursglove and Graham Brady speaking at a GO event in Manchester on 5 February. The EU referendum is now expected to be held in June as David Cameron wraps up his renegotiation with Brussels.
The latest opinion poll from YouGov for The Times, of more than 1,600 people between 3 and 4 February, put "leave" nine points ahead of "remain" (45% versus 36%, respectively).