EU referendum: Tory MP David Davis calls David Cameron renegotiation a 'waste of time'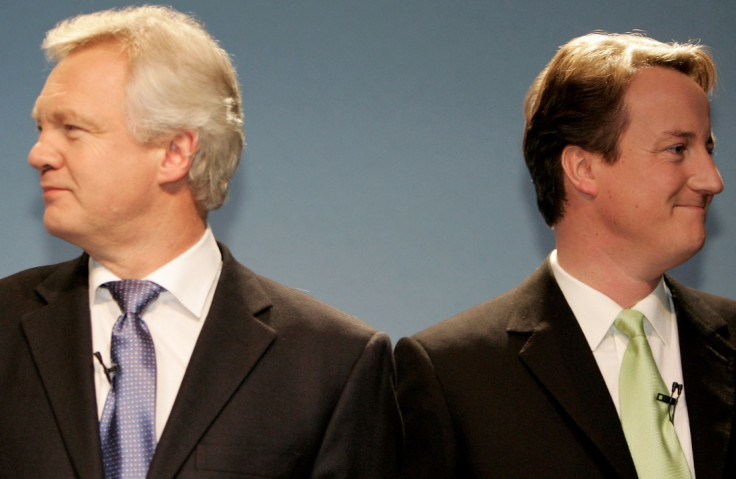 Senior Conservative MP David Davis tore into his party leader's renegotiation with Brussels, calling it a "waste of time", as the Eurosceptic outlined his detailed case for a Brexit. The former Europe minister claimed that David Cameron had a "once in a lifetime opportunity" to gain important reforms from the EU.
But Davis argued that the concessions outlined in the settlement tabled by European Council President Donald Tusk on 2 February would have "little, if any, impact on the nature of the EU".
The former Tory leadership hopeful launched the scathing attack against the prime minister's efforts during a pro-Brexit lecture to journalists in London on Thursday (4 February). Davis, among other things, criticised Cameron's acceptance of an "emergency break" on benefits.
The move would see the UK apply to Brussels in a bid to stop giving in-work welfare payments to EU migrants living in Britain for up to four years.
"It is rumoured that a French negotiator told his British counterpart that they were 'Happy to give the British anything they wanted, so long as it was nothing of substance'. He must have had the emergency break in mind when he said it," the senior Conservative joked.
As for the EU's draft agreement to an opt-out from Brussels' "ever-closer union", Davis claimed that the concession "is not worth the paper it is written on" given the "ratchet" nature of the 28-nation-bloc. The MP also attacked Cameron's much lauded "red card" agreement, which enable EU members to block extra legislation from Brussels if at least 55% of member parliaments voted against such draft legislation.
"The red card is not, on any interpretation, a parliamentary veto. It returns no power to parliament, does not help us protect our national interests and offers no protection from the EU lawmakers," Davis declared.
The Swiss case study
The Eurosceptic then went on to make the economic case for a Brexit, arguing that staying inside the EU would be too risky and citing Switzerland as a country that has seen better trade outside of the union while the UK has been inside it.
"Switzerland is a small country surrounded by the EU. Its trade is absolutely dominated by the EU – more than 62% of its exports go to Europe. It runs a large trade surplus, and it is not big enough to be a critical market for any EU nation," Davis said.
"The negotiation between the EU and Switzerland in the 1990s was marked by some hostility after it rejected EU membership, and yet it struck a decent deal. The optimum aim for us would be similar, but without the free movement of peoples. That would not be on the table. Essentially, we would be looking for a full-scale free trade agreement."
Davis claimed the UK government would have the opportunity to reform the country's economy after a Brexit and creative, among other things, a "competitive labour market and effective, rather than burdensome, regulation".
Workers' rights?
IBTimes UK was present at the event, and pushed the Tory MP on this point, asking if the language of "competitive labour market" was a euphemism for fewer labour rights.
Since Davis had previously attacked the government Trades Union Bill as something similar to anti-trade-union laws implemented under Spain's General Franco, IBTimes UK also asked if a Brexit would enable similar legislation.
"As your reference to my noisy intervention on Franco will indicate, I'm a strong believer in trade-union rights," Davis replied.
"But it should be our decision on that, it shouldn't be Brussels' decision – it shouldn't be a decision designed to meet the interests of the Greeks, the Germans and the Swedes, and so on. It should be designed to meet the interests of our own country under our conditions."
The senior conservative also argued that post-Brexit regulations would be better for the UK and its workers because current EU laws are designed to fit across 28 different countries. Davis's lecture came as Cameron looks to wrap up his renegotiation with the EU.
The prime minister is expected to hold the historic ballot in June, but he has not yet officially announced a date for the vote. The latest opinion poll from ICM, conducted between 29 and 31 January, put "remain" three points ahead of "leave" (42% versus 39% respectively).
© Copyright IBTimes 2023. All rights reserved.