Labour's Eurosceptics put the pressure on Jeremy Corbyn as they officially launched a new Brexit campaign group on 20 January. Labour Leave, part of the wider Vote Leave group, urged the party leader to give Labour MPs a free vote on the forthcoming EU referendum, arguing for a breakaway from Brussels from the left.
The group is backed by Labour's biggest private donor, John Mills, and some of the party's MPs, including Kate Hoey, Graham Stringer and Khalid Mahmood. "Labour voters are fed up with being told what to do by the European Union. They want the UK to determine its own future and not to be dictated to by unelected bureaucrats in Brussels," Mills told IBTimes UK.
"Labour needs to listen to those voters who oppose our EU membership if it is to reconnect with working people and reduce the risk losing further support to the Tories and Ukip."
The businessman also argued that Corbyn, who voted to leave the European Economic Community (EEC) in 1975, should follow in the footsteps of David Cameron and avoid whipping his MPs over the historic ballot, which will be held before the end of 2017.
"He should understand the imperative to give all Labour MPs — including those in the shadow cabinet, as the Conservatives have done — a free vote allowing them to campaign to leave the EU if they want to. After all, what is he afraid of?" Mills told The Sun.
The group's launch was welcomed by rival Brexit campaign, Leave.EU. Arron Banks, a Ukip donor and co-founder of the Leave.EU campaign, said: "We think it vital that all shades of political opinion that sees through the empty rhetoric of Brussels gives voice to the campaign to reclaim control of our destiny.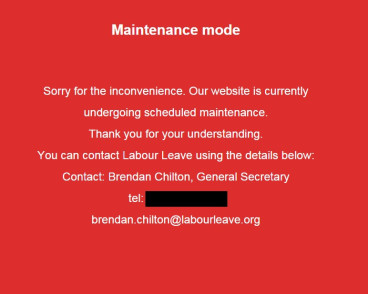 "We are urging our own 400,000 plus supporters to like and follow Labour Leave on Facebook and Twitter and sign up to provide help if they are Labour voters."
Labour Leave revealed to IBTimes UK that it was in talks with 10 Scottish Labour MSPs and Hoey, speaking on BBC 2's Daily Politics show, claimed up to 30 Labour MPs could back a Brexit. But despite the official launch, Labour Leave's website was down for "scheduled maintenance".
Alan Johnson, Labour's former home secretary, is leading Labour's pro-EU campaign. He has claimed there is "no progressive case" to break away from the 28-nation bloc. The latest online opinion poll from Survation in the Mail on Sunday, of more than 1,000 people between 15 and 16 January, put "leave" four points ahead of "remain" (42% versus 38%, respectively).