EU referendum: Tory donors 'incandescent with rage' to pump £5m into Brexit campaign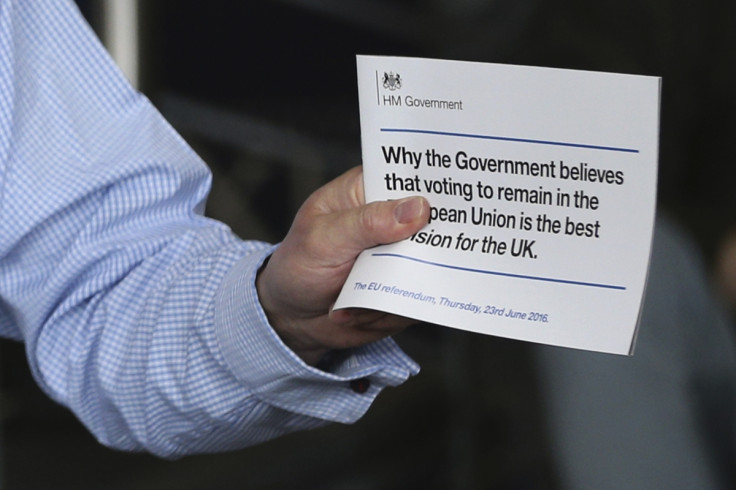 A group of top Tory donors "incandescent with rage" at the government's decision to send a pro-EU mailshot to 27m homes nationwide is preparing to give up to £5m ($7.1m) to the Brexit campaign. The move is seen as a tactic to restore the balance following Prime Minister David Cameron's decision to spend £9.3m of taxpayers' money on the 16-page leaflet.
The Midlands Industrial Council is likely to give the money to the Grassroots Out movement, one of two groups competing to officially lead the Brexit campaign. Council secretary David Wall said: "I believe that significant sums will now to go Grassroots Movement – the umbrella organisation – or Grassroots Out, either one."
Over the years, Council members have donated millions to the Conservative party. Since Cameron took office in 2010, its members have donated between £1m and £2m to the party each year. The group consists of wealthy anonymous industrialists.
When asked how much would be given to the anti-EU campaign, Wall told the Telegraph: "I would say there is a potential of £4m or £5m."
The Electoral Commission is set to decide whether Vote Leave or its rival Grassroots Out movement is officially designated as the Brexit campaign by 14 April. The winner will be entitled to raise £7m over the course of the 10-week campaign while other movements will have their spending capped at £700,000.
Vote Leave is perceived to have the edge because of its influential backers, including London Mayor Boris Johnson and Justice Secretary Michael Gove. Grassroots Out brings together existing Leave campaigns and is backed by Labour MP Kate Hoey and UKIP leader Nigel Farage.
On 12 April, the IMF issued a stark warning over the "severe regional and global damage" that could be sparked by a Brexit and cut its UK growth forecast. Chancellor George Osborne said the IMF caution strengthened the case for staying and said: "The IMF has given us the clearest independent warning of the taste of bad things to come if we leave the EU."
But this was rejected by Eurosceptics who pointed out that the IMF had been "consistently wrong" in previous forecasts. Last year IMF chief Christine Lagarde said it had "clearly underestimated" the strength of UK growth in its 2013 forecast.
© Copyright IBTimes 2023. All rights reserved.