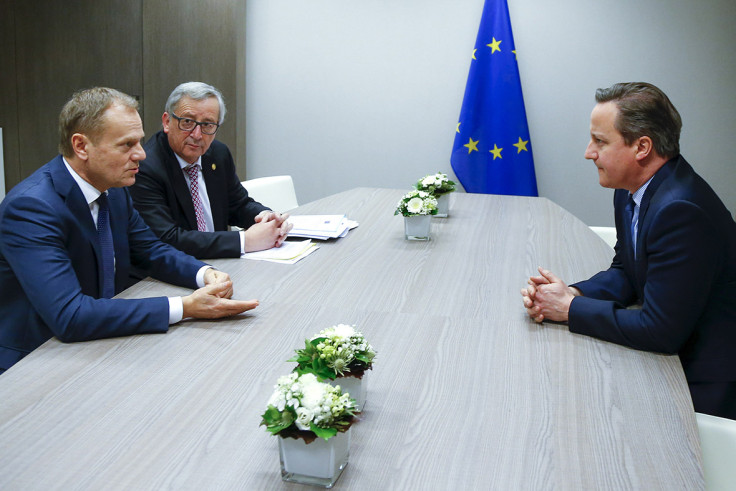 The great renegotiation drama in Brussels continues after EU leaders failed to agree on David Cameron's proposed reforms. The marathon talks are now expected to continue throughout 19 February as the prime minister hopes to finally secure a settlement and call the EU referendum for 23 June.
The sticking points in the negotiations reportedly involve Cameron's proposed welfare reforms. The Visegrád Group (made up of Czech Republic, Hungary, Poland and Slovakia) have previously opposed the prime minister's so-called 'emergency migration break', which would allow the Conservatives to apply to Brussels in a bid to block EU migrants in the UK from accessing in-work-benefits for up to four years.
The mechanism was branded "largely irrelevant" by Labour leader Jeremy Corbyn. Cameron's planned changes to child benefits has also apparently caused a stir among the eastern European nations. The Tory leader wants to stop exporting the welfare payments to the children of EU migrants working in the UK who are resident in another member state.
An analysis by IBTimesUK of figures from the House of Commons Library, estimated that exporting the social security handout costs Britain around £30m (€38.6m, $42m) per year. The soundings from Number 10 have been somewhat downbeat in the early hours of 19 February.
The latest public announcement came from Energy Secretary Amber Rudd, who took to the airwaves to warn that a deal is currently "out of reach". She told BBC Radio 4's Today programme: "What the prime minister has said is that we are making progress but a deal is out of reach at the moment."
Cameron had promised to "battle for Britain" ahead of the talks and it seems like his fight will continue when he reviews progress of the renegotiation with European Council President Donald Tusk at 10:45am (GMT).
"In the globalised 21st century we need the UK more than ever and we are convinced that the UK will be better off as part of the European Union," European Parliament President Martin Schulz declared on 18 February. "If we Europeans part ways we should make no mistake about the consequences."
Away from Brussels, Eurosceptics are set to hold a large pro-Brexit rally in the heart of Westminster. The conference will include speeches from the likes of Ukip leader Nigel Farage, senior Tory MP David Davis and Labour MP Kate Hoey.
There are rumours that a cabinet minister is secretly scheduled to address the rally, but the top Tory could lose their job in government if they made such a move without a renegotiation deal settled and the referendum date announced.
Respect leader and Eurosceptic George Galloway told IBTimes UK that he "couldn't possibly comment" if he planned to attend the event. The latest opinion poll from Ipsos MORI, of almost 500 people between 13 and 16 February, put 'remain' on 56% and 'leave' on 36%, with 10% of respondents undecided.