Sports Direct owner Mike Ashley has admitted his company may have got too big for him to control. Appearing before MPs on June 7, he admitting that at a "specific time" he paid his staff at a warehouse in Derbyshire the equivalent of less than minimum wage.
The billionaire said the rapid expansion of his sportswear retail company meant he was forced to employ around 80% of his workforce on zero-hour contracts and admitted he felt an "unpleasant surprise" after hearing of allegations of poor treatment and sexual harassment from his staff.
Ashley was giving evidence after being summoned by MPs to appear before the business, innovation and skills (BIS) select committee. Steve Turner, assistant general secretary of union Unite, told MPs before Ashley appeared that conditions at the warehouse resembled a "workhouse" or "gulag".
Following an undercover investigation by the Guardian which revealed a Sports Direct warehouse in Shirebrook implemented a strict surveillance operation against temporary staff. The tannoy speaker was reportedly used to publicly "name and shame" workers on the floor.
The investigation also showed staff were docked 15 minutes pay if they arrived for work one minute late and were effectively paid less than minimum wage as a result of 15-minute searches after their shifts, for which they did not receive overtime.
Speaking to MPs on the committee, Ashley highlighted the "bottlenecking" at security checks meaning hundreds of staff had to queue before being cleared resulting in a loss of pay as "some of those issues" he has since addressed. When asked whether the bottlenecking at security meant he had been paying his staff below minimum wage, Ashley answered: "On that specific point, for that specific bit of time, yes." He added changes had been made indicating there was now a "constant flow" which should have eliminated the problem.
Ashley also admitted the docking of pay for arriving a minute late was "unacceptable" and hoped the policy had changed. However, he said he was "terrified" the company may not have actually dropped the policy as he did not personally abolish it and was unaware who set it up in the first place.
Ashley explained he could not "look after every single thing" that went on in his company. "I can only do my best and my best may not be good enough," he added.
When asked whether Sports Direct had become too big a company for him to manage, Ashley admitted "probably, a long time ago". He continued: "I can accept the criticism of some of the things that you've said to me today would actually lead me to believe that it's definitely outgrown me. [That has] shocked me what you've said to me today."
The committee also heard damning evidence of a "culture of fear" from Sports Direct staff who were given "strikes" for taking toilet breaks deemed too long or going to get a drink of water. Recruitment agency Transline, who work with the company, admitted only 45 out of 2000 workers responded to their recent questionnaire about customer satisfaction, with the MPs suggesting this was because staff were "scarred" to discuss the conditions at the warehouse for fear of reprisals.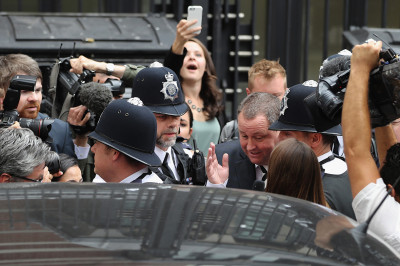 Workers union Unite also claimed there had been 110 call-outs to the ambulance service at the Shirebrook warehouse, including five for childbirth and miscarriage-related issues and one woman who allegedly gave birth in the staff toilets rather than risk taking the day off.
Ashley suggested the "excessive" call-outs to the warehouse may be down to employees possibly being "over quick" to call 999 when staff felt unwell. Addressing claims the warehouse tannoy was being used to "harangue", Ashley said he believed the claims were "a bit of a myth" but added: "If we are abusing it, we deserve the cane."
In March, the company saw shares plummet over 12.5% following the negative publicity surrounding the alleged "Victorian" work practices, as Ashley admitted the company had not been trading well. "We are in trouble, we are not trading very well," he said. "We can't make the same profit we made last year."