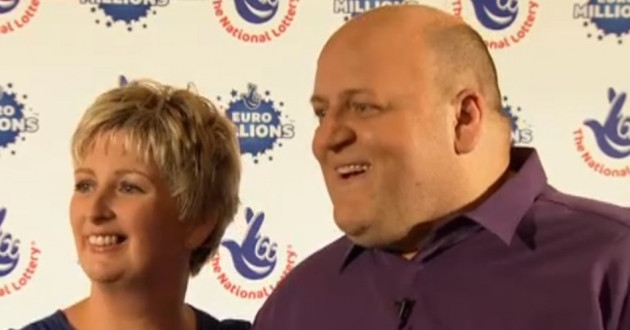 A couple from Suffolk have been revealed as the winners of more than £148m in the Euromillions Lottery.
Adrian and Gillian Bayford, of Haverhill, have joined the ranks of the richest 1,000 people in the country with the bumper win, which is the second greatest in the National Lottery's history.
The couple, who have two children, spoke of their shock and disbelief as they were photographed holding their cheque for £148,656,000, which they scooped as the holders of the only winning ticket.
Despite the win, Adrian, who owns a secondhand music shop, claims he will be back behind the counter soon. Meanwhile Gillian, who works on a children's ward, plans to give up work to spend more time with her family.
They also plan to take their young children and parents to Disneyland, something they had not been able to do because of Gillian's mother's ill health.
Asked whether she thought it was too much money to win, she said: "If you're selfish, then yes, it's too much money. But if you are willing to share it all around and give it to people and let them have and enjoy the quality of life that you have, then it's not too much.
"Just because one person has a ticket doesn't mean they have to have all of the money. Why can't lots of people be happy?"
The couple said that the win "was not just us but for everyone," and explained that they planned to use the cash to support their family and friends.
Gillian said: "We've been lucky that we have a close family and friends who have supported us and been close to use and now it's time to repay that."
The couple also said that they would like to look into supporting children's charities.
"It must be a mistake"
The Bayford's described the moment that Adrian realised that his lucky dip ticket, had won them the vast fortune.
He had originally joked to his wife that actually hadn't bought any tickets, before nipping upstairs to check them while Gillian settled their baby for bed.
"I don't normally check them straight away, but I just thought I would this time," he said. "I realised that the first three numbers came in and then the next three and then I just had to check it two or three times.
"It was just disbelief.
"I came downstairs and she was trying to settle the little one, but I turned the light on."
Gillian said: "I snapped at him to turn the light off and that I would look at whatever he had to show me in a minute.
"Then when I checked the ticket I kept saying, it must be a mistake, you've got the date wrong or something."
The couple say that they have a strong marriage and that therefore the money wouldn't change them. When asked why they went public with their win, they said it would not be fair on all of the people they will give money to burden them with the secret.
Adrian revealed that he bought the ticket on the Friday evening before the draw from his local shop and that he would owe the shopkeeper a drink.
The winning numbers were 11, 17, 21, 48 and 50. The lucky stars were 9 and 10.
The couple's win is only beaten by that of Colin and Christine Weir, of Ayrshire who scooped £161m in 2011.