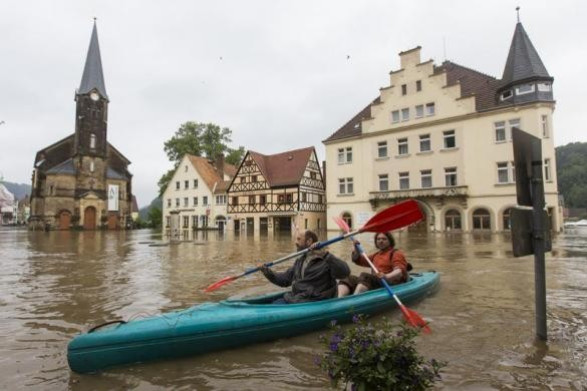 Thousands of people have been evacuated from their homes in western Hungary as it becomes the latest country in the region hit by flooding that has devastated large parts of central Europe.
Hungarian authorities evacuated more than 2,000 people from the western village of Gyorujfalu as a precaution against flooding along the river Danube.
"The dyke is so far stable but water pressure is so high that we decided to evacuate Gyorujfalu due to safety considerations," Prime Minister Viktor Orban told news agency MTI.
"We will defend every section of dyke and protect every single person, we won't leave anybody in danger in their houses," Orban said.
He said no other settlements were in immediate danger from flooding, which he called the worst the country had seen on the Danube, one of Europe's main waterways.
The flood is expected to peak in Budapest on Monday at around 8.85 metres, above the 8.6-metre record reached in 2006.
Budapest Mayor Istvan Tarlos said that in a worst-case scenario up to 55,000 people may need to be evacuated, according to a BBC report.
Some 1,500 people had already been evacuated in the northwest of Hungary, where the river has reached record levels in several locations.
Emergency workers and volunteers worked overnight to reinforce leaking dykes, build missing barrier sections or remove water, and extra truck drivers were called in to help transport sandbags to affected areas.
Meanwhile, the bridge linking Slovakia and Hungary at Esztergom was closed to traffic on Saturday 8 June.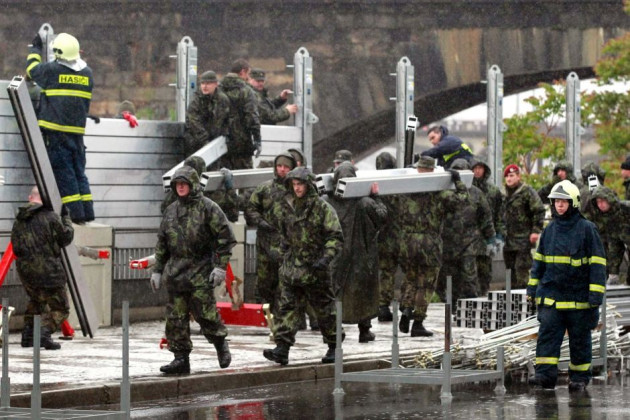 In the Czech Republic, floods swept through the capital of Prague. Gyorgy Bakondi, a government spokesman, told MTI that the authorities would continue to strengthen dykes at Gyorujfalu.
Hundreds of people were piling sandbags in the village to bolster flood defences with the help of military helicopters.
So far, the death toll is at least 18, including 10 in the Czech Republic, which is in danger of renewed floods.
Soldiers and volunteers worked through the night to reinforce dykes and repair leaks in eastern Germany and in Hungary.
Throughout the German state of Saxony-Anhalt, thousands of residents have been evacuated from their homes as water levels on the Elbe River - already at record levels in the past few days - continued to rise by some 2cm every two hours, according to officials.
In Bitterfeld, patients had to be removed from a hospital as a dyke threatened to burst, and in the nearby medieval city of Magdeburg, flooded roads forced the evacuations of several old people's homes.
In Muehlberg, a town in Branbenburg state that was evacuated just a few days ago, the situation remained "very tense," said local police spokeswoman Ines Filohn.
"We need to protect the dykes no matter what," Wolfgang Brandt, a spokesman for the Brandenburg state crisis centre, said.
Meteorologists in western Austria, one of the first regions hit by the floods last weekend, also warned that new rain in the coming days could trigger more flooding and landslides in the Alpine valleys.
TOP FIVE DEADLIEST FLOODS IN HISTORY
| | | | |
| --- | --- | --- | --- |
| | Location | Date | Estimated Deaths |
| 1 | Huang He (yellow) River, China | August, 1931 | 4,000,000 |
| 2 | Northern River, China | July, 1959 | 2,000,000 |
| 3 | Huang He (yellow) River, China | September-October 1887 | 900,000-6,000,000 |
| 4 | Saint Felix, Holland | November 1, 1530 | 400,000 (nationwide) |
| 5 | Kaifeng, China | 1642 | 350,000 |