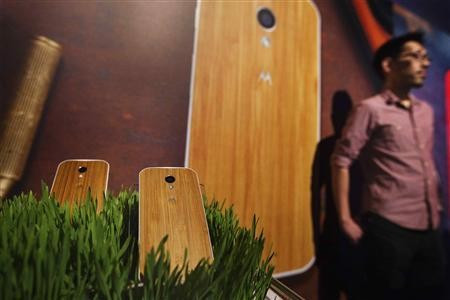 At the launch of the Moto X in the US in August last year, Motorola made a lot of noise about the fact the phone was the first phone to be designed and manufactured in the US.
Six months down the line, the Moto X is launching in Europe, but the phone isn't exactly the same, with Andrew Morley, general manager at Motorola UK and Ireland, confirming to IBTimes UK, that the phone will be manufactured in "a number of different factories globally" and not in the US.
He added that the 'Made in US' feature would likely be more significant for consumers in the US, hinting that manufacturing the phone in Fort Worth, Texas is more of a marketing gimmick than anything else.
Moto Maker
One of the reasons Motorola gave for manufacturing the Moto X in the US was Moto Maker, a system which allows users ordering online to customise the colour of their Moto X with up to 2,000 combinations available.
The US version of the Moto X is also available with a wood veneer rear cover, marking it out even further.
At launch in the UK and Europe, the Moto X will only be available in black and white, but Morley said that bringing the Moto Maker system to customers outside the UK is something which is currently being assessed.
"We are looking at Moto Maker and we are certainly evaluating if it makes sense to launch it [outside the US]."