A migrant shelter has been targeted by suspected arsonists in Germany, just days after anti-immigrant riots in Heidenau were condemned by German Chancellor Angela Merkel. There have already been over 200 attacks on refugee centres in Germany this year alone.
This latest incident took place 10 miles west of Berlin in the town of Nauen, where a school sports hall was being converted to house 130 refugees prior to their being moved to permanent accommodation. No-one was injured in the attack.
Potsdam police said it appeared the fire spread after it was discovered which leads them to believe it was planned. An investigation will take place when the fire is fully under control. A total of sixteen fire trucks attended the scene.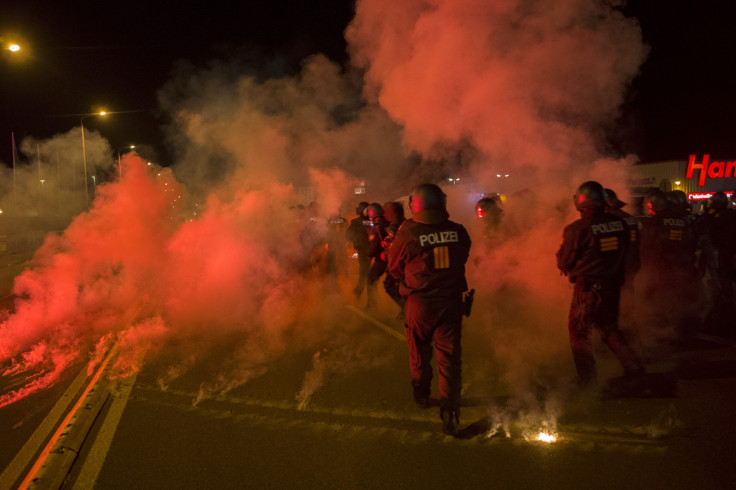 Over the weekend there were anti-immigration riots in the town of Heidenau, in the east of the country, in which dozens of police officers were injured.Many of those taking part are reported to have been drunk and some chanted "Heil Hitler."
Interior Minister Thomas de Maiziere said: "At the same time as we see a wave of people wanting to help, we have a rise in hate, insults and violence against asylum seekers. That is obscene and unworthy of our country. Anyone who acts like that faces the full force of the law."
Maiziere has said Europe's Schemngen Agreement could be endangered unless the migrant crisis is resolved and other countries take their fair share of migrants.
Chancellor Merkel - who will visit Heidenau on Wednesday (26 August) - called the unrest "shocking" and "shameful."
Germany is the target for a high proportion of the hundreds of thousands of people attempting to reach Europe in what has been called the worst migrant crisis in Europe since World War II. This year Germany is poised to process 800,000 applications for asylum.