Germany's interior minister Thomas de Maiziere has called on Britain to take more migrants as the crisis continues to escalate across the European Union. An estimated 800,000 applications for asylum are expected to be processed in Germany alone in 2015 – more applications then taken by all 28 EU countries combined last year.
Germany is one of 26 countries forming the Schengen zone, whose members do not have border or passport controls between each another, allowing free movement across the EU. Now, de Maiziere says Britain should take more migrants despite not being part of the Schengen zone.
"Of course Britain has a special role," de Maiziere told the BBC. "It is not part of Schengen, but all EU countries must become more aware of their responsibilities." When asked if he meant Britain should take more refugees de Maiziere said "yes". Currently, thousands of migrants are camped in Calais and attempting to reach Britain, which has sent police and fences to France to keep them out.
Although almost all migrants currently land in Greece and Italy, many head north in a bid to claim asylum in more affluent countries. Maiziere – a key ally of German Chancellor Angela Merkel – said the Schengen Agreement could be put at risk unless member countries faced up to their responsibilities.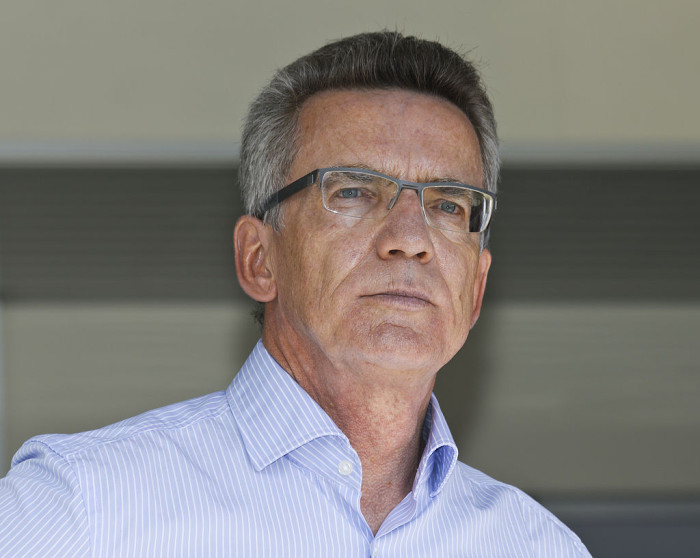 "If nobody sticks to the law, then Schengen is in danger, that's why we urgently need European solutions," said de Maiziere. He spoke as Germany experiencing an increase in attacks on migrants, with some 150 attacks on migrant shelters in the first six months of 2015. In the latest attack, a shelter in Bavaria was firebombed by suspected right-wingers on Friday (21 August).
According to the EU border agency Frontex, 340,000 migrants have landed in the EU so far this year. The influx has been called "the worst refugee crisis since the Second World War" by one senior EU official.
Currently, thousands of migrants are engaged in running battles with police as they attempt to reach Macedonia from Greece on their way north. Many of these are expected to head for Germany, Scandinavia and Britain.