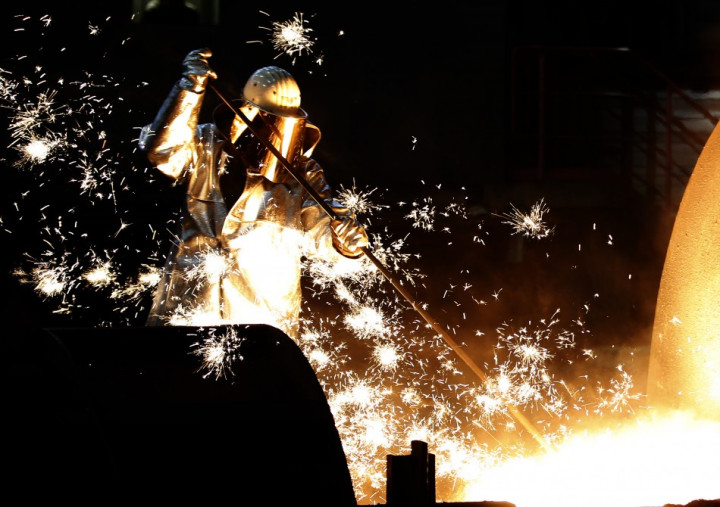 Industrial production in the 17-nation eurozone, where millions of people are unemployed, disregarded market expectations of a month-on-month decline and grew 0.4% in April, following a 0.9% jump in March, 2013.
Economists polled by Reuters had expected a 0.2% decline in April's output.
However, eurozone-wide industrial output in April, 2013, fell 0.6% when compared to April, 2012, pointing to the fact that Europe's woes are far from over.
Industrial output in the EU27 grew 0.3% month-on-month in April, but dropped 0.8% from a year ago, Eurostat data showed.
April's industrial output gains were capped by a lower production of cars, electronics and other durable consumer goods, alongside lower energy output, the EU statistics office said. Durable consumer goods production dropped 2.7% in the eurozone and by 1.4% in the EU27. Energy output decreased by 1.5% month-on-month in both zones.
In April, capital goods production grew by 2.7% in the eurozone and by 2.5% in the EU27. Non-durable consumer goods output rose 0.7% in both zones. Intermediate goods output remained stable in the eurozone, but it fell by 0.1% in the EU27.
Industrial production rose in ten member states and fell in eleven in April, Eurostat said based on available data. Ireland (+3.0%), France (+2.3%) and Romania (+1.9%) posted the highest increases in industrial output for the month, while Finland (-5.1%), the Netherlands (-4.3%) and Portugal (-3.6%) posted the highest decreases.
Germany, Europe's biggest economy, reported a 1.2% monthly rise in output in April. France's output rebounded during the month, growing 2.3% month-on-month. However, Italy's output dropped by 0.3% in April, and has fallen three months in a row now.
Together, Germany, France, and Italy account for two-thirds of the eurozone's industrial output.
The eurozone economy contracted further in the first three months of 2013 on lower investments and exports. The EU's statistics office confirmed in its second estimate that gross domestic product (GDP) for the region declined 0.2% sequentially in the first quarter, as estimated by analysts.
Youth unemployment hit a rate of 24.4%, in April, to 3.624 million jobless under 25-year-olds in the 17-nation bloc.