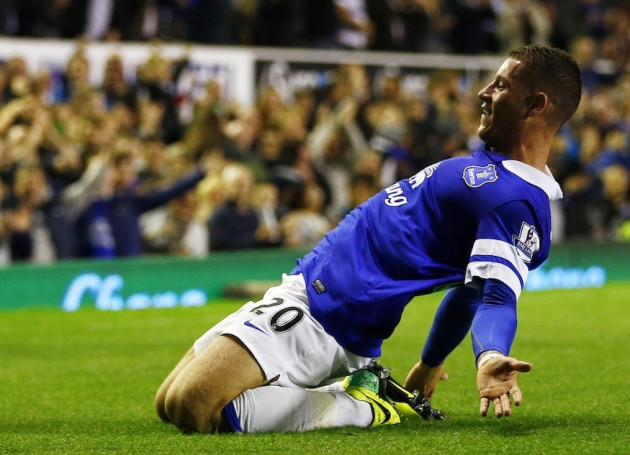 Gareth Barry has advised Chelsea and Manchester United target Ross Barkley to snub interest from the big clubs and stay at Everton.
The 19 year old has hugely impressed for the Toffees since returning from a loan spell with Leeds United and as a result has garnered interest from a number of top clubs in England.
He also received his first international cap in August, coming on as a substitute for Jack Wilshere in England's 4-0 win over Moldova, and has been earmarked as a potential star of the future for both club and country.
David Moyes will be well aware of the youngster's talent and at United he has made no secret of wanting to raid his former club for their best talent. Meanwhile at Chelsea the need to bring in a new generation to continue their success is becoming ever-more important and rumours have circulated that a bidding war over Barkley's signature might ensue in January.
But Barry, who is currently on loan at Goodison Park from Manchester City, believes that in order for Barkley to continue to develop at such a successful rate he needs to stay put rather than have his head turned by the likes of United or Chelsea.
"The manager has already shown he is not frightened to throw the younger players in if he thinks there is a role in the team and he thinks they have enough ability," he said, according to the Daily Mail.
"Ross is reaping the benefits at the moment and the more he plays the more confident he will get and the more he will improve.
"There are so many positives I can throw at him, for such a young player he is playing a very mature game.
"He is strong, quick, has a change of pace and the performances he has shown in the Premier League prove he can deal with the pressure.
"But on the other side the manager has already stated you don't want to put loads of pressure on his shoulders.
"You don't want to build him up too much. I think Everton is the perfect club to be learning his trade and the more he plays the more he learns and he will keep improving while keeping his feet on the ground, which will be ideal for him."
Barkley's development with Everton will no doubt put him in high esteem for when England travel to the Brazil World Cup next year. With that in mind and the starlet continuing to receive chances from Roberto Martinez it would appear unlikely he would be open to a move in the middle of the season.