Everton have confirmed that a deal has been reached with FC Twente to sign midfielder Leroy Fer for a fee believed to be in the region of £8.5m.
The midfielder, who previously played for Feyenoord and is nicknamed "The Bouncer" due to his powerful physique, will now travel to Goodison Park to negotiate personal terms and undergo a medical.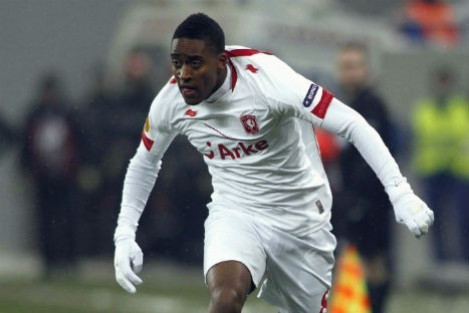 Fer, who turned 23 this month and has two caps for Holland, has recently made the headlines when he bought his girlfriend a £22k horse only to find out she could not keep it as she lived in a block of flats.
Despite making the news in England for the wrong reasons, Fer has excelled in Steve McClaren's Twente side and has scored three goals in 14 appearances this season.
Speaking to the Liverpool Echo after Everton's 2-1 victory over Bolton on Saturday, manager David Moyes admitted that he would be looking to bring in some new faces during the last days of the transfer window.
"I'm going to try and freshen things up. People are aware we don't have big cash but I'm looking as we need a little bit of freshness if we can get it to help us in the second half of the season," said Moyes.
"A lot of my time this week will be devoted to try and bring someone in but most of my time will be devoted to trying to win my game on Wednesday night.
"Whatever happens, you can only bother about the players you've got, not the ones you've not got.
"I'll concentrate on the players I've got at the club. If I'm fortunate enough to get someone else then great and I'll start to look at them when I can get them in.
"I tell the chairman what I think we need and we try and work it out together. I know exactly that he gives me every penny so if you don't have it, you can't give it. We're pretty straightforward. If you don't have it, you can't spend it."