With Stephen Colbert hosting the 69th Primetime Emmy Awards it was no surprise that the show had a heavy political flavour. His monologue, much like the ones he performs on The Late Show, was riddled with Donald Trump jokes, but the biggest came in the form of a cameo appearance by the US president's former press secretary.
Audience members were shocked to see Sean Spicer take the stage at the 17 September event. "This will be the largest audience to witness the Emmys, period. Both in person and around the world," the former White House employee teased, referring to his (incorrect) statement earlier this year about the crowd size at Trump's presidential inauguration.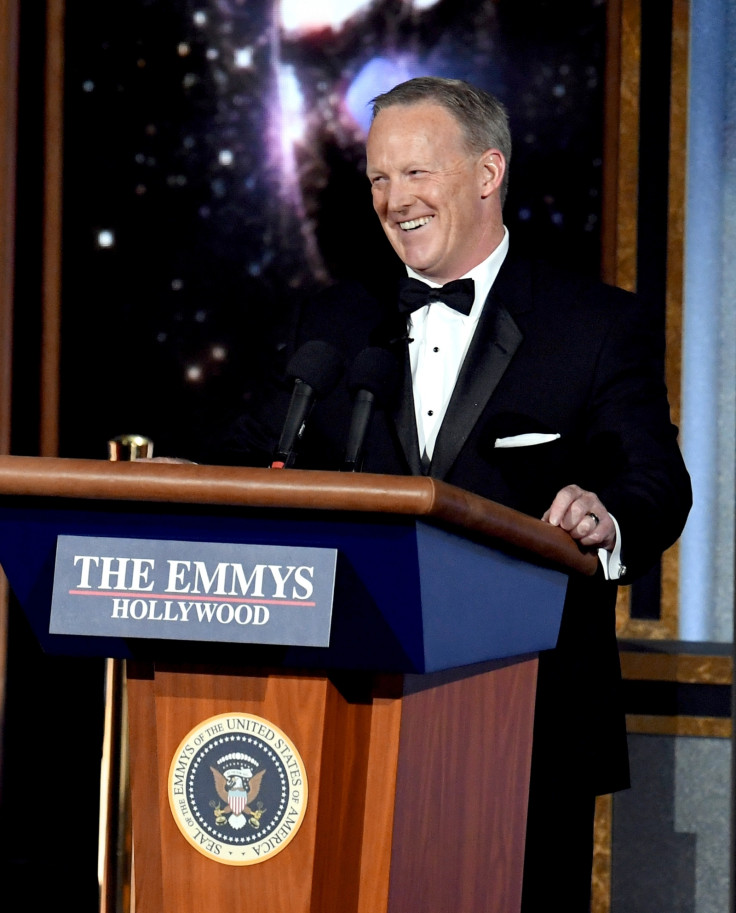 While most of the attendees laughed at the joke, not everyone was ready to forget the damage Spicer caused during his time as WH communications director. "I'm not ready to laugh 'with' Sean Spicer," Scrubs actor Zach Braff posted on Twitter. "I think he is an evil, opportunistic liar that hurt our country."
Kal Penn, who plays the White House press secretary on Designated Survivor was not happy either. "@seanspicer can normalize himself in good fun, but he still passionately advocated against human rights, health care, & American values," he pointed out.
"When US history records the crimes of this administration—and the names of its enablers—Sean Spicer on the Emmys will be a VERY bad look," University of New Hampshire lecturer and political commentator Seth Abranson wrote online.
While Spicer's appearance came as an unpleasant surprise to many, SNL star Alec Baldwin came to his defence. "I have done jobs that you shouldn't respect or admire me for, too . . . so we have that in common," Baldwin said sympathetically.
The political aide has made a number of television appearances since stepping down from his position in the Trump administration in July, but has continued to defend the president, his claims of "fake news" and use of "alternative facts".