Former FBI director James Comey will tell the Senate Intelligence committee that he found US President Donald Trump's request to stop the federal investigation into Michael Flynn "very concerning".
The ousted security services chief will also tell the panel that Trump demanded he pledge his loyalty during a dinner in January.
Comey is scheduled to testify before the intelligence committee on Thursday (8 June) about his interactions with the president regarding Russia's interference in the election and possible collusion between Trump's campaign and Moscow.
His prepared statement was released on Wednesday (7 June), The Associated Press reported.
In his statement, Comey describes an incident that occurred when he and the president dined together privately in January. During the dinner, Comey says Trump asked him whether he wanted to remain as FBI director.
"My instincts told me that the one-on-one setting, and the pretence that this was our first discussion about my position, meant the dinner was, at least in part, an effort to have me ask for my job and create some sort of patronage relationship," Comey says.
"That concerned me greatly, given the FBI's traditionally independent status in the executive branch."
Comey says he responded he wanted to finish out his 10-year term and that he "was not on anybody's side politically". Trump then reportedly told Comey: "I need loyalty. I expect loyalty."
Although Comey did not answer him at first, he says Trump brought the subject up again towards the end of their meal.
Comey's statement continues: "I replied, 'You will always get honesty from me.' He paused and then
said: 'That's what I want, honest loyalty.' I paused, and then said: 'You will get that from me.'" He adds that it is possible the two interpreted the term "honest loyalty" differently, but that he chose not to pursue the subject further.
Comey also reveals that he felt compelled to document his first meeting with Trump in early January in written memos and to continue that practice during the remainder of his term. "This had not been my practice in the past," Comey says.
Ending the Russia investigation
According to Comey's statement, Trump asked him to end the investigation into his former national security adviser, Michael Flynn, on 14 February, the day after Flynn resigned.
"I hope you can see your way clear to letting this go, to letting Flynn go. He is a good guy. I hope you can let this go," Trump said to Comey. In his statement, he says he found the request "very concerning, given the FBI's role as an independent investigative agency".
Shorty afterwards, Comey reportedly asked Attorney General Jeff Sessions to not allow any further direct communication between the president and himself. Sessions did not reply.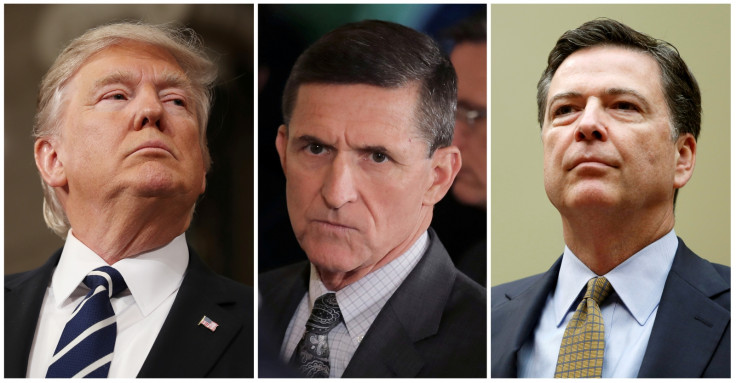 Trump again brought up the Russia investigation in a phone call to Comey at the FBI on 30 March. Calling the investigation "a cloud" that was impeding his work, Trump asked what the FBI could do to "lift the cloud".
During their talk, Trump was eager for the FBI to make it public that he was not under investigation. "The president went on to say that if there were some 'satellite' associates of his who did something wrong, it would be good to find that out, but that he hadn't done anything wrong and hoped I would find a way to get it out that we weren't investigating him," Comey says in his statement.
Comey assured Trump that he would see what the FBI could do and that the bureau would do its "investigative work well and as quickly as we could".
Comey last spoke to Trump on 11 April, he says. The president abruptly sacked him early in May, with the White House giving a number of reasons for his firing. However, the president himself admitted that the Russia investigation was one of the reasons he fired Comey.