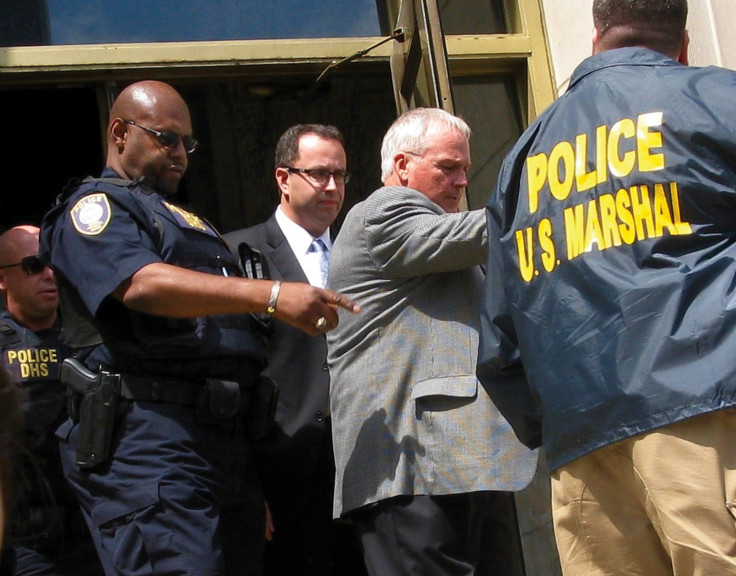 Former Subway spokesman Jared Fogle has asked a federal judge on 19 August to accept his guilty plea to charges of child pornography and traveling for illicit paid sex with minors. News that Fogle would be pleading guilty emerged on 18 August, six weeks after state and federal authorities raided his Indiana home.
The plea deal must now be reviewed by federal Judge Mark Dinsmore, who will decide whether or not to accept it. According to Reuters, the court has entered a technical plea of not guilty on behalf of Fogle in the meantime.
Under the plea deal between Fogle's defence team and prosecutors, the former sandwich restaurant pitchman would serve between five and 12 years in prison, pay $1.4m (£892,939) in restitution to 14 minor victims and register as a sex offender, among other conditions.
After he entered his plea deal, Fogle was placed on home detention and was ordered to wear an electronic monitoring device.
According to Reuters, the charges against Fogle state he received images of minors from Rusell Taylor, who was the head of his charitable foundation. Authorities claim Fogle also received commercial child pornography from Taylor and stored sexually explicit images of children as young as six.
The charges also allege Fogle traveled to New York City at least two times between 2010 and 2013 to seek sex with minors. He allegedly paid to have sex with a girl he knew to be 17 and with another girl who was younger than 18.
The indictment against him revealed he told the first girl he would "make it worth her while" if she could get another minor to have sex with, "the younger the girl, the better". According to the Wall Street Journal, Fogle also sent text messages to escorts for girls as young as 14.
Fogle's attorney, Jeremy Margolis, told reporters, "He expects to go to prison, he will do his time...He will continue to make amends to people whose lives he has affected, and at some point hopes to become again a productive member of society."
Taylor was arrested on federal child pornography charges two months before Fogle's Zionsville home was raided in July. Assistant US Attorney Steven DeBrota told reporters that Fogle attempted to seek paid sex with minors after Taylor's arrest, but was unsuccessful.
Subway officially terminated its relationship with Fogle on 18 August when reports of his guilty plea emerged. "We have already ended our relationship with Jared and have no further comment," the sandwich restaurant chain tweeted.
Fogle's wife, Katie, is also seeking to end her relationship with Fogle, she announced in a statement to the media. "Obviously, I am extremely shocked and disappointed by the recent developments involving Jared. i am in the process of seeking a dissolution of the marriage," she said in her statement released by her attorney.