A rare blue diamond weighing 122.52 carats -- potentially the world's most expensive jewel to date -- has been discovered at a South African mine.
Petra Diamonds described the diamond produced by the Cullinan mine on the outskirts of Pretoria as "a truly significant find".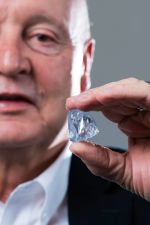 It is so pure it is expected to eclipse the world's most expensive diamond – a 507-carat white which was sold for $35.3 million (£20.8 million), in February 2010.
"It's exceptional to have a blue of this size", said Petra Diamond spokeswoman Cathy Malins.
The diamond will not be sold until the end of the company's current financial year, 30 June pending further analysis.
"So far, the highest price on record paid for a rough diamond was £20 million ($35.3 million), paid in February 2010 for a 507 carat white stone, also recovered from Cullinan. We think that this stone may break that record," FinnCap analyst Martin Potts said.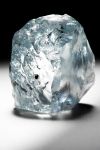 "The stone will require further analysis in order to assess its potential value and upon completion of this process, Petra will be in a position to evaluate its optimal route to market," said the miner in a statement.
Petra Diamonds acquired the mine in 2008 and has produced many important blue diamonds including a 29.6 carat diamond which was sold for $25.6 million (£15 million) in February.
Other finds include a 25.5 carat diamond which sold for $16.9 million, (£9.9 million) in 2013 and a 26.6 carat diamond sold for $9.49 million, (£5.5 million), in 2009, known as the Star of Josephine after it reached the highest price ever sold at auction.
Blue diamonds derive their colour from small amounts of the chemical element boron trapped in the crystal carbon structure rarer than yellow and pink diamonds and make them among the world's most highly valuable and collectable items.