To celebrate the opening of its new 22,000 square foot technology department, Harrods has teamed up with Fujifilm and luggage company Globe-Trotter to offer a limited edition X-Pro1 camera and case.
The Fujifilm X-Pro1 is a digital SLR camera with a retro design and a 16 megapixel sensor. But, retailing for around £1,400, this just isn't enough for some, so thanks to a partnership with Globe-Trotter and Harrods, there's now a £5,695 special edition.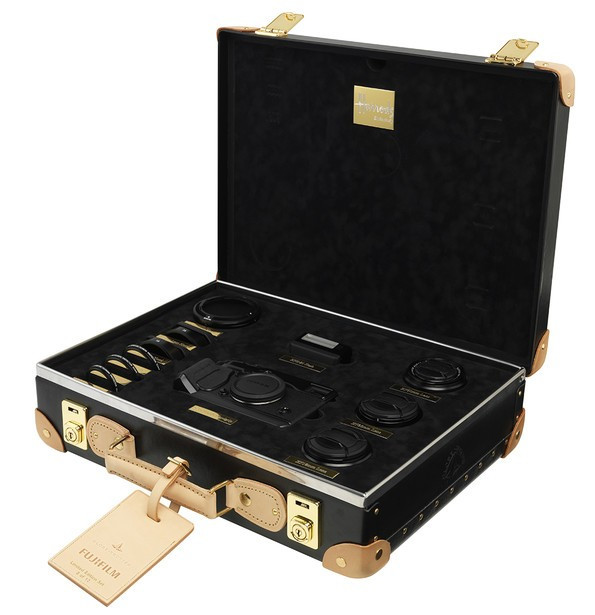 Just 12 of the special edition cameras will be sold at Harrods and each of them is offered with a Globe-Trotter suitcase made from 'vulcanised fibreboard' which is constructed from 14 layers of specially bonded paper using Victorian machinery; the case can be made in any colour you want.
Harrods is no stranger to charging astronomical prices for shiny gadgets, as the world-famous department store recently offered ten pairs of Beats Studio headphones plated in 24ct gold for £1,489. The store also sells a wide range of gold and diamond-encrusted iPhones, iPads and MacBooks to those who think the Cupertino company is lacking something.
While paying an extra £4,000 for a carry case does seem a bit steep, it also includes all three lenses that the X-Pro1 was launched with back in January, measuring in at 18mm, 35mm and 60mm, each with lens hoods. On there own, these retail for around £1,700 for all three.There's also a filter and flash, and the case is limited to just 12 units worldwide, all exclusively available from Harrods.
David Bland, product manager at Fujifilm, said: "The X-Pro1 marries incredible photographic performance with classic design. We have long been a fan of Globe-Trotter's stunning range of cases so we are delighted to be collaborating with them for this worldwide exclusive for Harrods."
The refurbished technology department at Harrods opened on 16 March to coincide with the launch of the new iPad, and the store told IBTimes UK just a day before opening that the new department would feature a dedicated 'Apple Shop'.