Exclusive: Photographer reveals story behind fascinating 'dogs catching treats' images
His photos have been seen by over 28 million people in a few days.
A photographer who is taking the internet by storm with photos of dogs catching treats has revealed the story behind his prized photos. Christian Vieler, 46, from Waltrop in Germany started taking photos of dogs in 2011 as a way of experimenting with shutter speeds.
But five years and a collection of stunning pictures later, the photographer has captured the attention of millions worldwide. A video documenting his photos has been shared on Facebook over 500,000 times and has been seen by over 28 million people.
"The photos happened by accident," he told IBTimes UK.
"I wanted to do some shutter-speed tests in the studio and was in need of some action in front of my lense. I wanted to check how to freeze motion with the flash, so I put my dog Lotte in front of the camera, but she didn't move.
"So I started throwing treats to her and it just went from there."
At first, as he focused in on his testing, he did not realise the gripping results of his photos. He said it was only when he stepped back and took some time away from the photos that he realised just how funny the results were.
"First, I only had an eye on the sharpness of the pictures," he said.
"I only recognised later how funny Lotte looked. From that day on, I started slowly photographing other dogs and then I shot every client in my studio that way."
The pictures seem to capture every aspect of emotion as the dogs are thrown their treats – eyes trained intently on the prize, slobber everywhere, their mouths wide open and the look of elation as they slam their jaws shut around their delicacies.
"I think the pictures are so fascinating because they are not only pictures of funny looking dogs, we can discover very well-known human emotions like pain, desire or pure joy," added Vieler.
Since the internet explosion of Vieler's photos, he has quit his job as the editor of a German creative agency to become a full-time pet photographer. His book, Treat, is available for pre-order and will be released in 2017.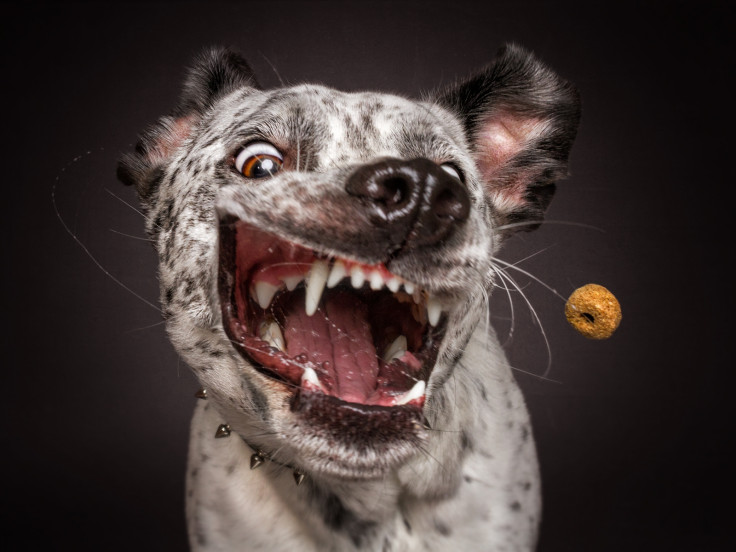 © Copyright IBTimes 2023. All rights reserved.