Exclusive: Spanish Pair Not Set For Manchester United Move
Alba and Soriano will remain in Spain this month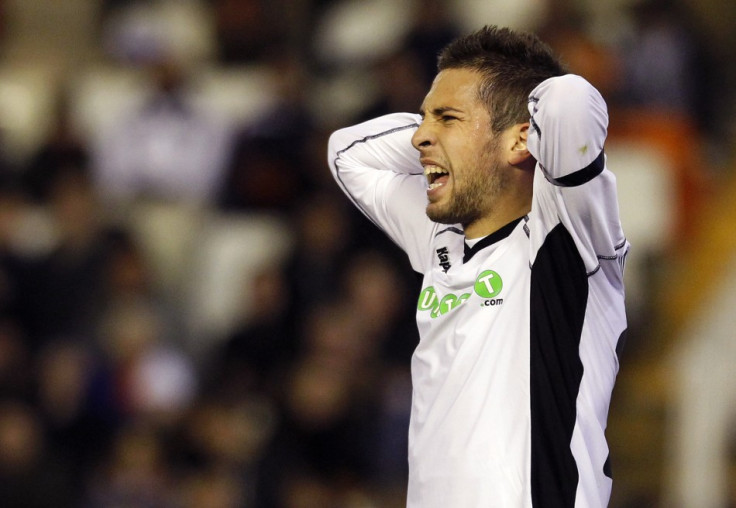 The International Business Times UK can confirm Valencia left-back Jordi Alba and his compatriot Bruno Soriano will not be joining Manchester United this month.
Manchester United were strongly rumoured to be considering Alba as a possible replacement for Patrice Evra. The aforementioned Frenchman remains Sir Alex Ferguson's captain in the absence of Nemanja Vidic, but his form has suffered perhaps understandably amid the furore surrounding the well-documented case with Luis Suarez.
Manchester United have subsequently been linked with a host of possible fullbacks and Alba's name was perpetually mentioned, however, a source close to the 22-year-old told the IBTimes UK that they were endeavouring to discuss a new deal, and the player's representatives had not had official contact from Sir Alex Ferguson.
Barcelona have been linked alongside Manchester United, but the aforementioned source confirmed the Spanish international, who is currently Vicente Del Bosque's first choice left-back, claimed a contract extension is likely to be signed this month.
"Jordi Alba wants to renew (his contract) in Valencia and I think it will be renewed this month." The source confirmed to the IBTimes UK.
At the turn of the year, Alba was directly pressed on reports of pending interest from Manchester United and Barcelona, but he claimed he wanted to remain at the Mestalla.
"It's still the same, there was a first contact and now my agents are working on it," The reputed Manchester United target said at the beginning of the month. "I'm not too focused because I am confident in the work of my representatives.
"Everything will work out, things will go on, but people must understand that I devote myself to playing and trying to do my best and do not worry about anything else."
In November, the IBTimes confirmed Valencia's intention to begin discussions over a new deal for Alba, in light of speculation linking the player with Manchester United.
In addition to Alba, Manchester United were also linked with his international colleague, the Villarreal midfielder Bruno Soriano, but the previously mentioned source has subsequently dismissed the link.
While acknowledging the player had attracted previous interest from Manchester United, the IBTimes were told there was nothing new to report.
At the beginning of November, The Sunday Times claimed Manchester United were tracking the 27-year-old ahead of a possible foray this month, however the source, who is closely associated to the talented midfielder suggested Soriano would not be moving to Old Trafford in January.
"There is nothing new in regards to Manchester United. I have not heard anything." An associate of the 27-year-old's agent, Jose Manuel Tarraga, concluded.
Last year the IBTimes questioned the source over Manchester United's rumoured interest but were told a transfer to Old Trafford was 'impossible'.
© Copyright IBTimes 2023. All rights reserved.