An F-18 Super Hornet fighter jet of the US Navy crashed into the Celebes Sea off the Philippines coast on Friday (21 April) while attempting to land on the USS Carl Vinson aircraft carrier. The jet was reportedly returning to the carrier following "routine flight operations" over the Korean peninsula.
The sole occupant of the fighter plane, the pilot, was safe. He ejected off the jet before the crash and was later rescued by the naval crew.
"The incident occurred as the F/A-18E assigned to Carrier Air Wing 2 was on final approach to USS Carl Vinson," a statement from the US Navy's 7th Fleet said on Friday. The cause of the crash was still unclear and an investigation has been launched.
The statement added that the pilot was being assessed by the medical team on board USS Carl Vinson and "there are no apparent injuries at this time".
USS Carl Vinson – the Nimitz-class supercarrier – is leading what US President Donald Trump called his "armada" to the Korean peninsula. The armada reportedly comprises two guided-missile destroyers and a guided-missile cruiser, which were dispatched to the troubled region in an apparent show of force by the Trump administration to the Kim Jong-un-led North Korean regime. The armada was originally scheduled to sail to Australia.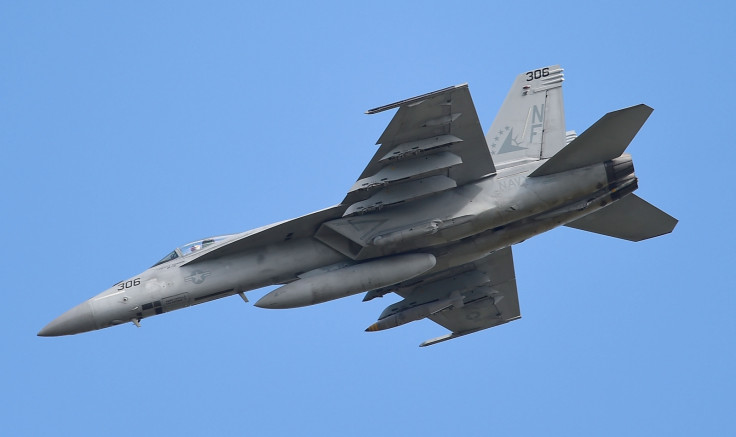 However, some recent media reports suggested that the strike group that started on 8 April was still thousands of miles away from its destination even after sailing for nearly two weeks. The delay was attributed to scheduled military drills with the Australian Navy. The Japanese Navy was also reported to be planning exercises with the American fleet.
Meanwhile, tensions around North Korea have prompted its neighbours to prepare for a possible war with the US. South Korea has already put its military on war readiness, with Russia reported to be moving its troops and artillery along its border with the rogue state to control any mass exodus expected to happen if Pyongyang comes under an attack from the US.
North Korea has already warned the US against provocations saying a nuclear war could break out any moment.